Grab Your Date for Zombie Prom the Musical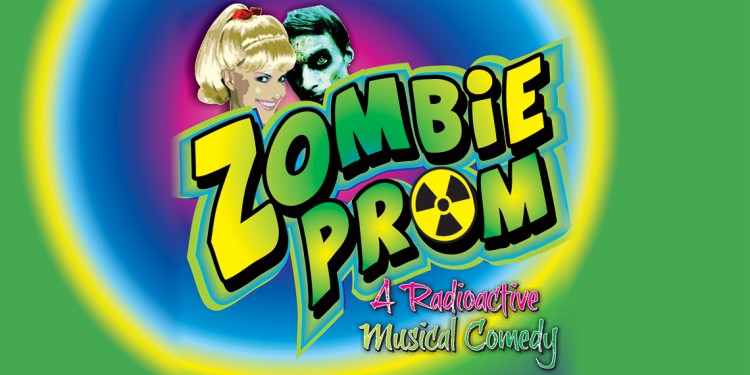 It's "Grease" meets "Night of the Living Dead," as the comedic, off-Broadway musical "Zombie Prom," comes to the Old Town Temecula Community Theater this week, presented by the Fine Arts Network.
Originally produced at the Red Barn Theatre in Key West, "Zombie Prom" premiered off-Broadway in 1996. A humorous exploration of young love in the 1950's, the musical really puts the "nuclear" in nuclear family.
"Rough-and-tumble bad boy Jonny falls for a good girl-type named Toffee but, when Toffee's disapproving parents and overbearing principal break them up, Jonny throws himself into the town nuclear plant in a fit of adolescent angst," Director Derek Heid said. "He then returns from the dead as a 'nuclear zombie,' intent on both winning Toffee back and showing the town that just because he's green doesn't mean he's mean."
In the Fine Arts Network production, the rebellious walking dead, Jonny Warner, is played by Devon Ryle and his innocent Sandra Dee love interest, Toffee, is played by Chaparral High School student Jillian Barnett. Both performers had the challenge of making love between an upstanding young girl and a Halloween-style goblin, look not only believable but also convince the audience to be sympathetic to their situation despite the human and under-worldly obstacles in their way.
"Toffee falls for bad-boy-with-a-heart Jonny, an orphan with a checkered past," Heid said. "Jonny's desire to live life by his own rules, coupled with his spelling his name without the "h," thereby 'defiling a good Christian name,' as the antagonist of the piece puts it, sets him at odds with the authority of the school's harsh headmistress Delilah Strict, whose own past is less than clear."
Though the plot is quick-witted, funny and even bizarre, Heid is confident that the messages presented in "Zombie Prom" are relatable to anyone who has ever experienced young love or adversity in their own lives.
"'Zombie Prom,' for its goofiness, carries a resonant message: love may look different, but love is still love," Heid said. "The musical presents prevalent themes of acceptance, teen rebellion, the resilience of love, and the need to adapt to changing times."
Though "Zombie Prom" does have some slightly mature subject matter…and zombies…it is, for the most part, family-friendly, but not recommended for young children.
Heid looks forward to the impact this little-known musical can have on the audience and hopes the production can make the living, and the undead, feel that much more alive.
"'Zombie Prom' is a unique show in that it doesn't have the mindless spectacle of a big Broadway powerhouse," Heid said. "It only ever played off-Broadway and in workshop, but its charm and wit carries it along in subtler and, I think, much more rewarding, ways.  I've had a blast working on the show and I can't wait to see it enjoyed by our community."