Zombie-Rock Apocalypse Halloween Concert Benefits the Fine Arts Network
Local sound-alike classic rock cover band, Mrs. Jones' Revenge, is doing their part to help support one of the valley's most important organizations while spreading a little spooky Halloween spirit, with their "Zombie-Rock Apocalypse" Benefit for the Fine Arts Network on Sunday, October 26th.
"This show is a critical lifeline for this organization, as the economy has taken a toll on corporate sponsorship and the closure of the theater for renovations for six months eliminates half the theater company's revenue," Mrs. Jones' Revenge Front-man, Jeff McNeal, said during a recent interview. "As a result, the Fine Arts Network is in real peril of having to cease operations and shut down and, as performing artists, our band feels very strongly about supporting our local arts."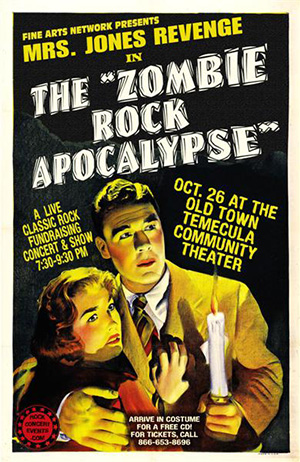 Mrs. Jones' Revenge is unlike any other cover band, as lead singer McNeal has the uncanny ability of altering his voice to sound remarkably like the original artists. Playing a wide range of selections from the sixties, seventies, and eighties, the band promises two hours of nothing but the greatest hits of iconic groups like The Rolling Stones, Van Halen and even The Beatles.
With McNeal, current members of Mrs. Jones' Revenge include Jean-Francois Bergeron (lead guitar), Ron Adams (bass, vocals), Terry Brown (keyboard, guitar, vocals), and newcomer Keith Jones (drums).
"We will be playing the most faithful recreations of classic rock music in the best possible environment to enjoy it," McNeal said. "Every seat in the Old Town Temecula Community Theater is fantastic due to its small, intimate size, yet the stage and light show rivals anything you'd see in Las Vegas or any other state-of-the-art venue. Their sound system is fantastic and manned by a consummate pro. In short, the audience can expect to see and hear our performance at its very best. This is the third and final fundraising concert we've performed this year and may be the last opportunity to enjoy us in this venue for the foreseeable future."
A regular supporter of local organizations including the Reality Rally for Temecula's Breast Cancer Resource Center and Michelle's Place, the members of Mrs. Jones' Revenge are committed to giving back to the community they call home. Since they do frequently perform at wineries and other local venues, the band will be using the Halloween theme as a way to make their benefit show an extra special experience for loyal fans and newcomers alike.
"We are encouraging people to come to the concert in costume to receive a free Mrs. Jones' Revenge CD featuring fourteen of our best Classic Rock tributes," McNeal said. "Your costume can be as simple or elaborate as you want. The band will also be featuring a couple of Halloween-themed songs and we will most likely be in costume ourselves, as well. We're just trying to make it more fun and thank our audience in a tangible way for coming out to support our fundraising effort."
In addition to the concert, the Halloween fun continues with a children's costume parade across the stage and an auction during intermission, featuring work by local artists and a very special prize provided by McNeal himself.
"I am personally donating an autographed bottle of Pat Paulsen wine that the late political satirist, comedian and former Presidential candidate signed and handed to me when I met him in 1984," he said. "Pat Paulsen is best remembered for his bumbling political humor on 'The Smother's Brothers Comedy Hour' in the late 1960's, but he also became a vintner later on in life and had his own namesake winery in Napa Valley."
Tickets are available through the Old Town Temecula Community Theater website at temeculatheater.org. For those who cannot attend but would still like to contribute, contact the band directly at MrsJonesRevenge@gmail.com . You can donate $15 via PayPal and they will mail you a souvenir ticket, an autographed photo of the band and the link to a digital download of the entire concert, in high-definition stereo, after the event.
Halloween is a great time to get together with friends and neighbors, get dressed in your costumed best, and enjoy awesome entertainment. The Fine Arts Network is a crucial part of Temecula's thriving arts and cultural community and, with their "Zombie-Rock Apocalype," the members of Mrs. Jones' Revenge are doing what they do best in order to not only help the organization but to provide their audience with a monster-mashing musical good time.