Don We Now Our Lame Apparel for Lorimar Winery's Ugly Sweater Party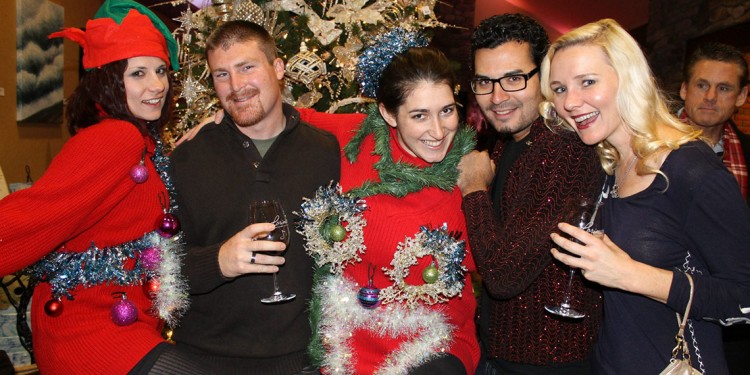 Is your closet harboring a reindeer sweater ala "Bridget Jones's Diary" (or, as Bridget says, reindeer jumpa') and have nowhere to wear it? Well, shake off the dust and shoo away the moths because Thursday, December 18th is your lucky day!
The staff at Lorimar Winery knows that everyone has received an ugly sweater, knitted by Grandma or your sweet slightly senile Aunt Betty, and they want you to take advantage of those well-meaning gifts by using them to win prizes!
At their Ugly Sweater Party on Thursday, December 18th at 6:00 pm, Lorimar Winery will be giving away prizes for the first and second place Ugliest Sweaters, so the tackier the better when it comes to the dress code at this holiday happening.
The 21 and over crowd will have the chance to dance the night away to live music on Lorimar's Sunset Patio and don't worry if it's a chilly night because you will be dressed for it.
Karaoke is on the agenda for inside, so gather your friends and channel you inner Mariah for your own rendition of the best Christmas song ever, "All I Want for Christmas is You." (Side Note: I also recommend The Waitresses' "Christmas Wrapping," for the more vocally challenged.)
There will even be a visit from the jolly old elf himself, Santa Claus, so have a seat on his lap and see what comes up. (Oh come on…like you've never heard that joke before.)
If you get hungry, pizza from Piazza Pizza will be available for purchase and feel free to drop as much sauce on yourself as possible. With that festive fleece, no one will even notice. Lorimar's special Caramel Apple Sangria, made special for the season, is the perfect cocktail to wash those slices down but, if caramel isn't your cup of tea, other holiday drink specials will be on the menu.
You can't beat the ticket price of free, so why not check out Lorimar Winery's Ugly Sweater Party? You have no idea how valuable that fuzzy winter wardrobe can be.