'Twas the Lights Before Christmas Contest Illuminates Temecula Homes
Southern California Edison better flip the switch to auxiliary nuclear.
The Clark Griswold's of our community are invited to participate in the City of Temecula's 'Twas the Lights Before Christmas home decorating contest.
Formerly known as Holiday Lights & Festive Sights (and we applaud the City for incorporating the word "Christmas"), this annual tradition awards participants for the wackiest displays, infinite inflatables and DIY decorating style, as well as celebrating the reason for the Christmas season, the birth of Christ.
This year's home decorating categories are:
Clark Griswold – Excessive use of outdoor lighting and decorations
Norman Rockwell – Looking for an old fashioned, traditional and nostalgic holiday display
Debatable Inflatable – Is it too much or just right? It's debatable, 8 or more inflatables required for this one!
Simply Homemade – 50% or more of yard display must be handcrafted
Reason for the Season – Religious holiday display
Neighborhood – Neighborhood participation with multiple displays
Temecula residents can submit an online application until December 4, 2015. Lights are required to be turned on from December 6th through December 20, 2015. All entries will be judged and included on the City's 'Twas the Lights Before Christmas map, which will be posted online.
Beginning December 10th, the City will be hosting 'Twas the Night Before Christmas double-decker bus tours for those who would like to see the brilliant contest-winning entries up close and in person.
Reservations are required and book up fast.
Visit the Temecula Community Services Department website for more information on entering the home decorating contest, as well as reserving your spot on a bus tour.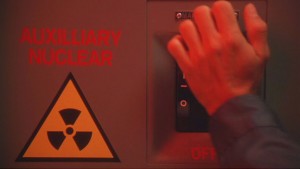 Incidentally, have you ever noticed how "Christmas Vacation" has the word "auxiliary" spelled wrong (see photo)? Just a little bit of Christmas movie trivia to start off the season. Now let's see those lights!