Candlelight Classics Welcomes the Campanella Guitar Quartet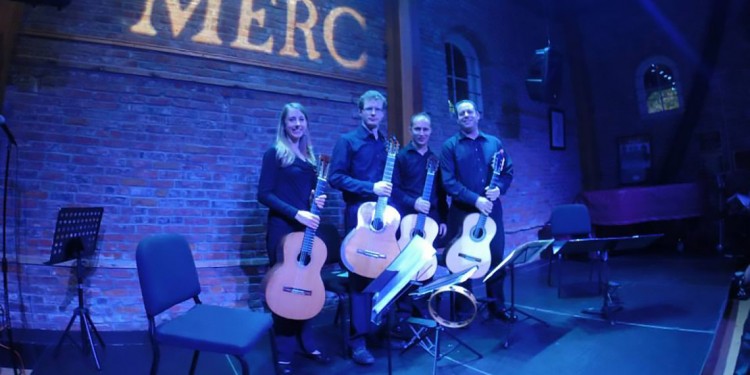 The Old Town Temecula Community Theater continues their lineup of wonderful holiday entertainment this Sunday, December 14th and again on December 21st, with their annual Candlelight Classics.
Presented by the Golden Valley Music Society and Temecula Presents, Candlelight Classics is a special holiday edition of the popular monthly series, Classics at the Merc, which brings some of Southern California's finest classical musicians into the intimate setting of the 48-seat theater for a truly unique and personal experience for the audience.
This year's installment of Candlelight Classics welcomes back the Campanella Guitar Quartet, including classical guitarists David Adele, Nikola Chekardzhikov, Amy Hite and Adam Pettit. The quartet will be performing seasonal chamber musical selections for the special holiday audience.
"We will be playing a festive and varied program," Hite said. "The first half includes a set of Spanish Noëls, a Christmas medley, an arrangement of the American folk song Shenandoah, and two modern compositions for guitar quartet, one which has percussive effects and constantly changing odd rhythms."
For the second half of the holiday program, the Campanella Guitar Quartet will be presenting their version of a classic Christmastime score, usually performed by a full symphony orchestra.
"For the second half of the program we will be playing Tchaikovsky's Nutcracker Suite, arranged for four guitars by quartet member David Adele," Hite said. "Many audience members have likely heard the Nutcracker Suite as performed by an orchestra, but very few have likely heard it performed on four guitars."
To add to the yuletide atmosphere, the Merc Theater will be decked out in its festive finest and those in attendance, who are of age, will receive a glass of champagne to set the mood and toast the season.
Candlelight Classics, featuring the Campanella Guitar Quartet, is a perfect afternoon of holiday music and Christmas cheer for music lovers all over the Inland Empire.