TVIFF: Palmdale Questions if Good Can Always Prevail Over Evil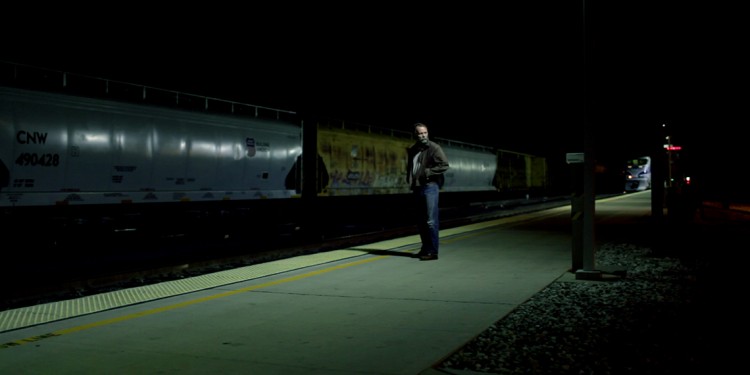 When Writer / Director Erich Kemp was in the process of filming his crime drama "Palmdale," the production became just as much about hiding from the law as the plot of the film itself.
"Some of the struggles and challenges during production were shooting with a very small crew in downtown Los Angeles, most of the time without permits, so the looming possibility that security or police might arrive and tell us to pack it up was always on my mind," Kemp said during a recent interview. "Luckily that never happened and we were able to get our shots."
Kemp's self-financed work took a span of three years to produce as he found himself working a day job to pay for the project, taking time off for the film's production, and then heading back to work for additional funds. If it wasn't for the group he had gathered to assist in his enormous undertaking, "Palmdale" may never have been completed.
"The success of the film was due to my fantastic and hardworking cast and crew who were as enthusiastic about the project as I was," Kemp said. "Any success 'Palmdale' receives is because of them and I am extremely grateful."
"Palmdale," is the story of a man dealing with the age old struggle of good versus evil.
"The film 'Palmdale' is about a down-and-out drifter, an older man, with nothing to show for his life but a violent and regretful past," Kemp said. "Because of his past, he is hired by two younger men to come to LA to kill someone. He reluctantly agrees to this because he needs the money. On his way to do it, he meets a young woman in similar circumstances and he is faced with a decision – to continue on his path of self-destruction and violence or to take the steps towards redemption."
"Palmdale" stars the one-named LACKOS at Kurt, a troubled man torn between a lifetime of doing the wrong thing but wanting to be right and Olivia Preciado as Marie, the woman who inspires Kurt to ask himself tough questions.
"I had seen so many men in his age-range and nobody was just right. I consider myself extremely lucky that LACKOS responded to my casting call because he is exactly as I had envisioned Kurt," Kemp said. "Olivia Preciado had done great work on a telenovela which was on her reel and, as soon as I saw this small clip, I knew I had to meet her and, sure enough, she was perfect for the role."
The film also stars Matt Callahan and Kristopher Knight-Doyle as the young men who pay Kurt for murder.
Screening at this year's Temecula Valley International Film and Music Festival, September 17th – 24th, Kemp feels that the tone of "Palmdale" resembles the classic crime thrillers of the glory days of filmmaking.
"I designed [the film] in the fashion of a classic, slower-paced crime film; perhaps something seen in the thirties through the fifties,' he said. "Called a noir film by some, it also has a heavy avant-gard, art-house element. There is a lot of experimentation with shots and slower pacing. However, there is also suspense and thrilling violence and many interesting characters, but I hope the humanity shines through it all. We get to walk in someone else's shoes for a little over an hour and root for a man who is finally turning his life around."
When the TVIFF audience walks away from seeing his film, Kemp hopes that "Palmdale" not only entertains those who see it but inspires them to help the people in their lives who cannot help themselves.
"The theme is that you can change your life for the better but you may have to cut ties to people who cannot allow this change. You may even have to leave entire environments behind in order to pursue this goal," Kemp said. "We must encourage each other to make positive changes to better ourselves."