Family Movie Night Benefits a Brave Little Girl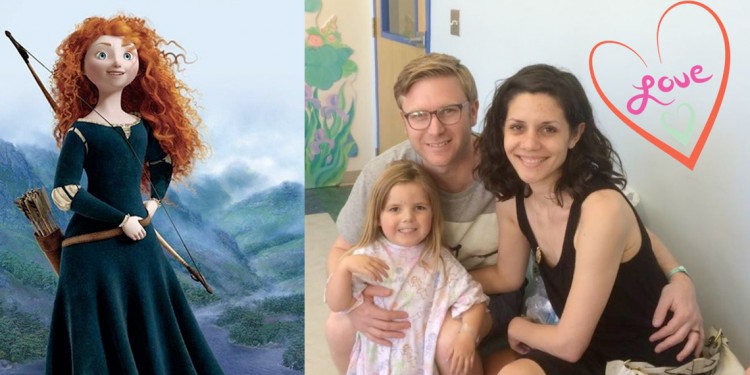 Disney / Pixar's "Brave" is the story of Merida, a young Scottish princess who proves that, against all odds, girls can be just as strong as boys. Right here in Temecula, one little girl is proving her bravery against a debilitating diagnosis.
"Jane [Morgan] is a four year old little girl who was born with a condition called Hypoplastic Left Heart Syndrome, Dextrocardia which essentially means backwards heart, Tricuspid Atresia, Ventricular Septal Defect (VSD), and a transposition of her arteries," Kelly Snydor, longtime Morgan family friend said during a recent interview. "There has been so much going on with her heart since the day she was born."
In such a short time, Jane has already endured three open heart surgeries; the most recent predicted to be her last. Unfortunately that wasn't the case.
"This surgery went very well but unfortunately she got a very serious infection in her sternum that required two more surgeries to remove the infection," Syndor said. "The Morgan's stay at Rady Children's Hospital was over a month long because of the complications she experienced."
In order to help offset the Morgan's growing medical costs, The Make a Difference Foundation, a local foundation that reaches out to those who need help, to make a difference in their lives, stepped in to help the Morgan family.
On Friday, September 26th at 7pm, Make a Difference will be hosting a movie night as a way the community can help support the Morgan's as well as spend time with their family, friends and neighbors.
"We are playing the movie 'Brave' on an outdoor jumbo screen and we will have popcorn, treats, water and juice, face painting, and balloons for the kids to enjoy," Syndor said. "We are planning a fun-filled evening for families to come hang out and enjoy each other's company while celebrating a really good cause."
The movie night will take place at Pavia Park, on the corner of Pavia and Caserta roads, in the Paseo del Sol neighborhood of South Temecula. It is a free event but donations are strongly encouraged. All proceeds will be donated to the Morgan family.
"Make a Difference Foundation is excited to put on a community event for families to enjoy and be a part of something meaningful," Syndor said. "Temecula is a great family-oriented community and we are hopeful that we are putting on an event that is a good time for everyone; all while opening up our hearts and learning about how we can give to others."
Like "Brave's" Merida, Jane Morgan has shown such strength in her journey to recovery and the Make a Difference Foundation's movie night is the perfect opportunity to support her in her fight.
"We chose the movie 'Brave' because the title is the best description for Jane," Syndor said. "She is the bravest child I have ever met.  At the age of four, she has shown more bravery than any little girl should ever have to. They are a wonderful family and I have the privilege of having them in my life."