One Sweet Day! R&B Icons Boyz II Men Still in Perfect Harmony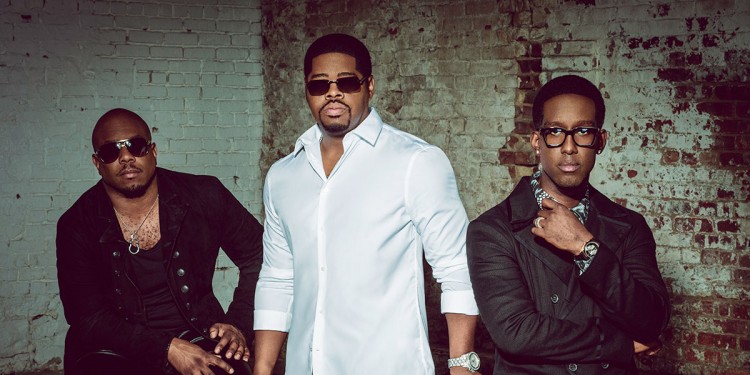 In the mid 1990's, R&B vocal group Boyz II Men could do no wrong. With megahits like "I'll Make Love To You," "On Bended Knee," and "Motown Philly," the Boyz were riding high on top of the Billboard Charts; becoming only the third act in history to replace themselves at the #1 spot.
The once untouchable super group has seen a roller coaster of massive successes and tepid receptions over the last few decades; releasing a couple of mildly received albums peppered with warm but never scorching new singles.
In 2013, the Boyz were now a trio comprised of original members Nathan Morris, Wanya Morris and Shawn Stockman. In a brilliant act of nostalgic publicity, the Boyz recaptured the hearts of their audience by launching a tour composed of a full line up of iconic boy bands, with Boyz II Men being joined by New Kids on the Block and 98 Degrees.
Two years after a lucrative repackaging of a classic brand, Boyz II Men is back and better than ever; selling out venues all over the world. The group's melodic tenor, Shawn Stockman, recently answered a few of my questions about the modern incarnation of Boyz II Men and the future of the three voices whom have blended so beautifully for decades.
How would you describe the new, mature Boyz II Men, as opposed to when you first made it big?
When we first started out we didn't really know what to expect and we were not sure we would make it in the music industry. Now that we have our fanbase, we know what to expect and how to continue to give them what they want.
To what do you attribute such a lasting career?
It really comes down to a core philosophy. As artists, we are committed to making timeless music, we are willing to work hard, and everything we do is for the fans. That's how we've always approached our careers and I think the industry and the fans have responded to that. We don't take success for granted, and I think that has absolutely contributed to our success.
Tell me a little bit about (the new album) Collide. Do you have any favorite tracks? What inspired you when creating the new album?
Collide is truly a collision of different sounds, styles and genres. It fuses rock, pop and funk with classic R&B. The result is a very big sound and wide-ranging record. This is an album with the type of sound that works in any era with big drums and lush piano; it grooves.
How has your music changed since your first album?
We continue to give fans the classic R&B sound they know and love, but the sound everyone is looking for has changed over the years. We, as a group, continue to experiment with our sound and try different combinations fusing different styles and genres together. Recently, we have incorporated guitars into our shows at our residency at The Mirage in Las Vegas!
Looking back on the last few decades, what are you the most proud of?
We have had so many amazing accomplishments over the years from Grammy Awards to a star on the Hollywood Walk of Fame, but performing for our fans for the past two decades and hearing how they pass our music down to their kids is extremely rewarding.
What would you have changed or done differently?
There have been ups and downs over the years, but they made us the group we are today so I wouldn't change a thing!
What will we be seeing in the current show?
Fans can expect a mix of new tracks from our latest album Collide, which we released last fall, and all of the old hits that everyone knows and can sing along to. We love California- we've played there a lot over the years- so we're really looking forward to this show.
What's next for the band?
We are currently working on the "Doo-Wop Project" to share the story of doo-wop and its impact on all genres of music.
Finally, what advice would you give to a young musician looking to be as successful as you are one day?
Continue to create music that inspires you and share it with the world!