Fine Arts Network and Temecula Prep Presents Broadway's Aida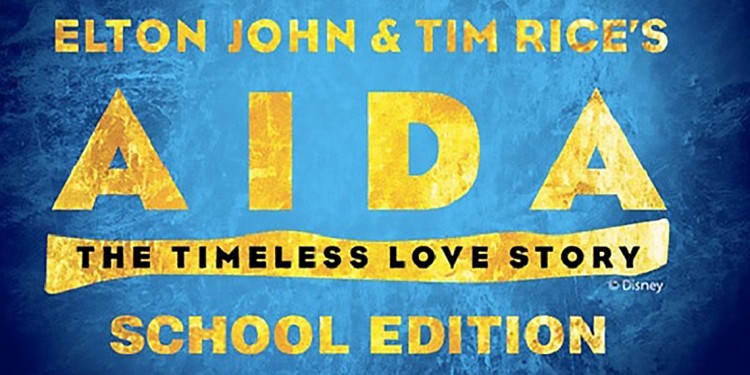 When Director Joseph Arreola of the Fine Arts Network was choosing a production for the theater students at Temecula Prep, he was immediately drawn to one of Disney's most award-winning and critically-acclaimed Broadway musicals, but it wasn't The Lion King, The Little Mermaid, or Beauty and the Beast.
Based on Giuseppe Verde's Italian opera of the same name, Aida was first commissioned by Disney as an animated feature but, when the project was shelved, the renowned songwriting team of Elton John and Tim Rice took the source material and developed it into a stage musical for Disney Theatrical.
Presented by the Fine arts Network in conjunction with Temecula Prep, Aida seemed the perfect fit for Arreola and his young performers.
"In considering musicals, I have to consider the appropriateness of the material itself as well as how it will fit the talent I have at my school," he said. "I considered many titles this year, but this is what I kept coming back to because I felt I could really fill out the cast and make it an awesome show."
Like many of its Disney counterparts, the story of Aida revolves around a princess and her one true love.
"The show is about star-crossed lovers," Arreola said. "An Egyptian Captain is betrothed to the daughter of the Pharaoh, but after encountering a young Nubian woman that his soldiers capture, he realizes that he is discovering love for the first time. Little does he know that she is not only a slave, but she is, in fact, the Nubian princess. Their love for one another eventually leads to their death sentence together, but not before she is able to rescue her father, the Nubian King."
Arreola's production of Aida is the student edition, which means it has been modified slightly for a young cast as well as a family-friendly audience.
"The show is already a Disney sponsored show, so most of it was appropriate, but there are some lines that have been omitted and lyrics changed but, in actuality, most of the show exists almost in its entirety," he said.
Arreola is particularly proud of the cast he has assembled for the challenging production. Jaya Mapleton plays Aida, the Nubian Princess, and the musical's heroine.
"Jada is a powerhouse vocalist who rivals many of the 'Aida's' I have seen in the national touring casts and some of the ones I have seen on Broadway," Arreola said. "She is a passionate performer who delivers multiple show-stopping numbers."
Andrew Backlund plays Radames, the Egyptian Captain who falls for the Nubian Princess. Arreola is thrilled with Backlund's recent growth as a musical lead.
"Andrew has been developing his voice over the last few years, in various musicals, and he is one of the most talented male vocalists at our school," he said. "Additionally, he is a passionate performer and an ideal pick for the role."
Katelyn Walsh plays Amneris, the Egyptian Princess.
"This young lady has some of the most incredible pipes anyone in this valley has ever heard and she brings an innocence to the role that I think adds a great deal to the character," Arreola said.
Rounding out the main cast is Saul Esqueda who plays Mareb.
"Mareb is Radames' slave and Aida's confidant," Arreola said. "Saul does a phenomenal job in his portrayal of this role and his angelic voice will leave the audience craving more."
With several show times this week at the Old Town Temecula Community Theater, Aida  puts forth themes of sacrifice, perseverance and love, above all else, and Arreola feels that his production will leave the audience feeling as though they stepped into a professional theater, not just a high school musical.
"I have a superbly talented young cast, which is remarkable for a high school with little more than 300 people," Arreola said. "These kids have put together a wonderful performance that will really take your breath away so come and see a timeless love story that will entertain, move, and inspire you."