Local CrossFit Gym Hosts "Three Wise Men" Fundraising Workout on Veterans Day
On Veterans Day, the nation pauses to honor our living military heroes but, for one Temecula business owner, the holiday is about raising funds to improve the lives of those who have sacrificed to preserve our freedom.
Quinn Cloninger, co-owner of IgniteRx Medical Fitness, has chosen to have his CrossFit affiliate participate in the Three Wise Men Tribute; a national fundraising event to benefit those who have survived their military service but are still struggling, financially or emotionally, after returning home.
"The tribute is a great way for gyms across the country to come together and support our veterans," Cloninger said. "It's an opportunity for us to help these heroes transition back into their civilian lives without worrying about their finances and we're so happy to be able to contribute."
The Three Wise Men Foundation was created in honor of Jeremy, Ben and Beau Wise; three brothers who chose to serve their country in the armed forces. Tragically, both Jeremy and Ben were killed while serving in Afghanistan. Beau still remains on active duty in the U.S. Marine Corps.
With the suicide rate of returning veterans skyrocketing in recent years, the Three Wise Men Foundation, founded by the Wise's cousin, Nathan Fletcher, was created to raise awareness and funds for returning military and their families, to help with living expenses and emotional support.
For Cloninger, participating in the tribute was a no-brainer, as three of his trainers are veterans and exhibit the exemplary work ethic and integrity that comes from prior military service.
"The veterans on my team give me 100% every single day," he said. "They educate and lead, while still taking the time to make everyone in the gym feel safe and protected, even when trying new things or overcoming injuries."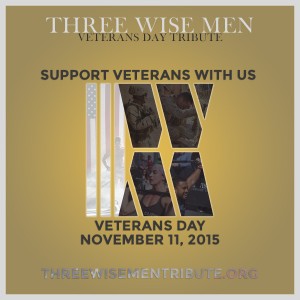 Eddie Scheidler (pictured), an IgniteRx CrossFit trainer and veteran, knows the significance of the day and the importance of these types of events.
"I chose to participate in this event to show my support to all of the veterans who are currently serving and who have served. As a veteran myself, it was very difficult transitioning into the civilian world and I saw, from the inside, the lack of support for troops coming back home from overseas," he said. "Veterans Day, to me, is a day to pay my respects to those who gave the ultimate sacrifice; a day to recognize all of the brave men and women who put their life on the line everyday so we can enjoy our luxuries and freedom."
On Veterans Day, Wednesday, November 11th, at 5:00 am, 10:00 am and 6:00 pm, IgniteRx Medical Fitness will be raising money through a CrossFit-style work out named for the three brothers. The community is invited to join this special tribute workout, which is being held simultaneously at CrossFit gyms all over the country.
Although the CrossFit brand may sound daunting to someone who has never tried this type of fitness before, the Three Wise Men Tribute workouts will be scaled to the individual needs of each participant, so no prior CrossFit experience is necessary.
To participate in this fun and interactive fundraising opportunity, a $25 donation needs to be made in advance, or on the day of the event. To register, visit http://www.threewisementribute.org/nearest-participating-affiliate/ and choose the affiliate name "IgniteRx Fueled by 79 South CrossFit." There is also an opportunity on the website to donate funds, even if you can't make it to the event.
IgniteRx Medical Fitness is located at 32827 Temecula Parkway, in Temecula.