The City of Temecula Celebrates Veterans Day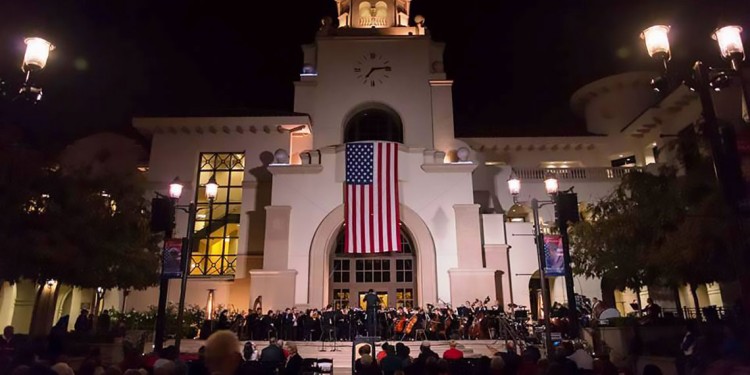 For the fourth year in a row, the City of Temecula Community Services Department and the Temecula Valley Symphony (formerly the Inland Valley Symphony) are teaming up to show their gratitude to the men and women of the armed forces with the City's annual Patriotic Salute to Veterans, this Wednesday, November 11th at 6:00 pm, in the outdoor quad in front of the Civic Center in Old Town.
The festivities begin with the presentation of colors, a flag salute, and a wreath presentation, with TAPS performed by Staff Sergeant LeAnn Splitter, United States Marine Corps and Associate Principal Trumpet of the Temecula Valley Symphony.
Led by Maestro John Mario, the Symphony will present a patriotic program including a series of American classics, joined by the newly-formed Symphony Chorus, under the direction of Eric Rea. The Chorus will perform "Call of the Champions," "Hymn to the Fallen" by legendary composer John Williams, and "Battle Hymn of the Republic."
"The Veterans Day Concert holds a special place in our hearts as we dedicate our music to those who have fought for and served our country in the armed forces," Alana Joos of the Temecula Valley Symphony said. "The music is uplifting, reflective, exciting and heart-warming and serves as a perfect tribute to our men and women in uniform."
For this year's salute, the symphony has invited guest vocalist, Soprano Jennifer Lindsay, to share her musical talent in honor of the occasion. Lindsay will be performing the inspirational hymn, "Amazing Grace," "America the Beautiful," "God Bless America" as well as Verdi's aria "Sempre Libera" from La Traviata.
"Lindsay is a lyric Soprano praised for her gorgeous tone and inspired musicality," Joos said. "She is a rising star in the world of opera and recently received an award in the final round of the James Toland Vocal Arts National Opera Competition."
Lindsay's performance will be followed by a 1940's Big Band medley and a selection of fitting patriotric marches. The evening's musical climax will be the orchestra's performance of "Liberty Fanfare," also by Williams, which was composed for the rededication of the Statue of Liberty.
All Temecula residents and guests, especially veterans, active military and their families, are invited to attend the City's tribute to our nation's heroes. The city asks that attendees bring their own chairs, blankets and jackets, as it is expected to be a chilly fall evening.
An event praised by the community each year, the City of Temecula and Temecula Valley Symphony's Patriotic Salute to Veterans promises to be an evening of American musical favorites, celebration and reflection, and the perfect way to honor those who have sacrificed their lives for our freedom.