South Coast Winery is Blessed with Harvest Fun for Everyone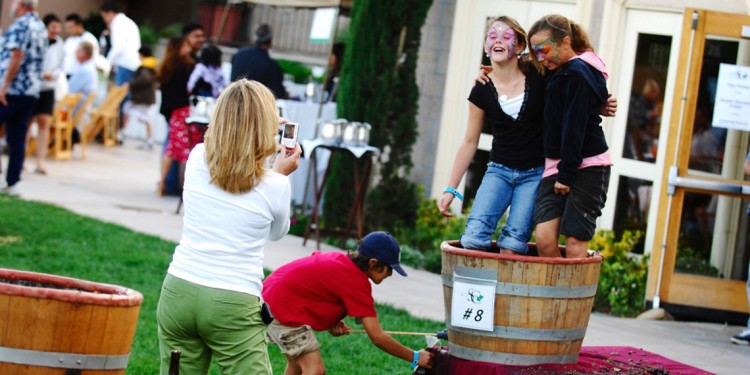 As California Wine Month continues, wineries all over the Temecula Valley are holding their popular grape stomping events. To differentiate their Blessing of the Wine Grape Stomp and Harvest Festival from all the similar fetes in town, South Coast Winery Resort & Spa has added a little bit of religion to the mix.
"In addition to being a fun grape stomp offering, we view this annual event as more of a harvest celebration; an expression of joy, based off a centuries old tradition of offering up a blessing of thanksgiving for all that we receive throughout the year," Crystal Magon, South Coast Winery's Director of Sales and Marketing said during a recent interview. "Father Tom Burdick from our local parish will bless the wines and offer up thanksgiving for a bountiful harvest and the safety of our workers."
For their traditional grape stomp, South Coast Winery will have four rounds of competition and one final, ultimate stomp off. For each of the four rounds, ten teams of two, one to stomp and one to catch the juice in the bottle, will compete to make it to the final championship stomp. The pair who fills their bottle the fastest will advance to the finals.
Prizes will be awarded to the grape stomp competitors, but are also up for grabs at other games and activities throughout the afternoon.
"This event is loaded with action," she said. "In addition to great food and wine and our grape stomp competitions, admission also includes unlimited tractor rides through the vineyards, bottle ring toss and cork-toss, and face painting and balloon artistry by Sparkles the Clown."
Latin Jazz favorite, Diego Mondragon and Friends, will perform throughout the day, encouraging festival revelers to get up off their feet and dance with their friends and neighbors.
Unlike similar festivals geared to the 21 and over crowd, the tractor rides, games and clown are all on hand to entertain the winery's younger customers.
"We are a family-owned and operated winery resort and we know that children are very much a part of the joyous bounty of life itself," Magon said. "So it is only natural to not only include children but also provide special fun-filled opportunities for everyone in the family to come out and celebrate together as one-big family."
The $55 ticket price ($50 for wine club members) includes not only the chance to participate in the grape stomping fun, but also an all-you-can-eat gourmet barbeque dinner, complimentary wine toast, unlimited games and tractor rides and a full day of entertainment.
South Coast Winery's Blessing of the Wine Grape Stomp and Harvest Festival begins promptly at 4:00 pm with the first stomping competitions starting roughly at 5:00 pm. It promises to be an awesome autumn event for the whole community..
"A priest, a clown and a farmer walk into a winery….sounds like a joke right? But it's not," Magon said. "It only means that it's time for the South Coast Winery Resort & Spa's Annual Blessing of the Wines Grape Stomp and Harvest Festival.  We are inviting our neighbors to gather up their families and friends and come share a fun-filled afternoon of true celebration."