Shakespeare in the Vines Closes the Summer Season with The Tempest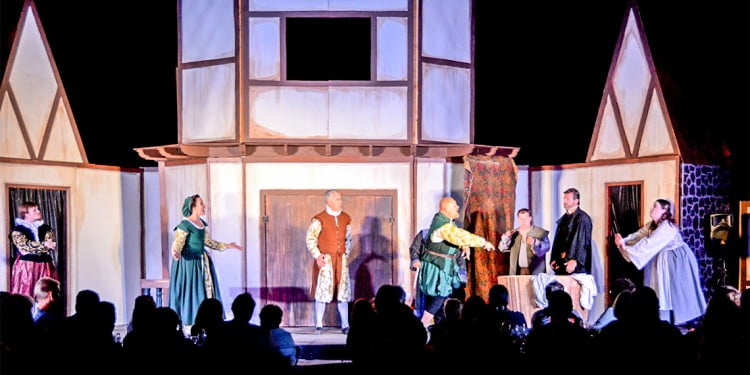 The drama, The Tempest, is widely believed to be the last play William Shakespeare wrote alone, which makes it a fitting end to another successful season of "Shakespeare in the Vines."
Shakespeare in the Vines, now in its ninth season, was the dream and brainchild of Founder, Artistic Director, and Temecula resident, Sheila Havens-Ryle.
"With themes of love, revenge, and coming to terms with humanity and use of supernatural power, you will find this performance absolutely spellbinding"
"Shakespeare in the Vines was conceived in 2005, when I was driving through our beautiful wine country with my husband, Geoff," Ryle said during a recent interview. "I had always wanted to start a theater group and it suddenly struck me that the vineyards were a perfect location."
When coming up with a concept for her group, Ryle knew exactly which author's works would best compliment the essence of the wine country landscape.
"Shakespeare is timeless," she said. "The wit, charm, beauty, and elegance of the great 'Bard's' words have lasted for four centuries and there is a reason for that."
After she was struck with the idea, Ryle found nothing but enthusiasm from the community to get her dream off the ground.
"Everywhere I turned I would meet someone who was as excited as I was and eagerly volunteered to be a part of creating it," she said. "From lighting design to builders to actors, the synchronicity was amazing.  It was meant to be."
With the support of her patrons, as well as the wineries willing to host the events, Ryle has turned her idea into a must-see theatrical experience; one which attracts 4,000 attendees annually.
For those who may be unfamiliar with Shakespeare on the Vines, seeing Ryle's company is more akin to attending an outdoor Shakespeare festival than an indoor theatrical production.
"A visitor to our shows will find outstanding theater, award-winning wines, delicious food to purchase or bring your own picnic dinner to imbibe in the lush green of the vines under the moon and stars," Ryle said. "But we do recommend bringing a jacket as it can occasionally get chilly."
With their final show of the summer, The Tempest, Ryle promises a wild ride of emotions from a play some believe to be Shakespeare's finest work.
"One of William Shakespeare's most enjoyable and magical plays, The Tempest, is stormy and seductive. You might even call it tempestuous," Ryle said. "With themes of love, revenge, and coming to terms with humanity and use of supernatural power, you will find this performance absolutely spellbinding."
In addition to the summer theater series, Ryle is especially proud of the Shakespeare in the Vines education outreach program, which ranges from single educational visits to schools to full semesters of intense instruction.
"We have outstanding instructors who visit schools all over the Inland Empire, bringing Shakespeare alive to children and teens of all ages," Ryle said. "It is so wonderful to enjoy seeing our youth fall in love with "The Bard.'"
The SITV education outreach program is a completely free opportunity for local schools, as a way to introduce the works of Shakespeare to their students.
In addition to be passionate about theater as well as education, Ryle is thrilled that, what was once just a dream, has turned into a beloved part of the community she calls home.
"Many of our patrons are season ticket holders who come to Temecula just to see our performances but enjoy visiting Old Town and the wineries and making a weekend of it," Ryle said. "I am delighted that SITV is able to be such a great asset to tourism in our lovely city."
Shakespeare in the Vines presents The Tempest
Europa Village Winery
August 7-23