Temecula Theater Prepares to Celebrate 10th Anniversary as Renovations Near Completion
For the last decade, the goal of the Old Town Temecula Community Theater staff has been to bring the best in arts and culture to the Inland Empire and, as their reputation of being a coveted performance space continues to grow, the quality of the entertainment each year always seems to exceed the one prior. Celebrating their 10th anniversary on October 4th, the 2015-2016 theater season is shaping up to be the best yet.
Since March of this year, the Temecula Theater has been undergoing extensive renovations; taking on a new and more modern façade to fit with the urbanization of Old Town, as well as receiving state-of-the-art technical enhancements to allow for an even higher production value on stage.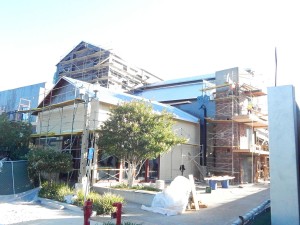 With a scheduled completion of renovations just in time for their big day, the new season kicks off with a special 10th anniversary celebration weekend, including Broadway Star, a one-night only performance by The Barn Stage Company, and Mozart Rocks, featuring the California Chamber Orchestra.
The highlight of the weekend will be a special performance by world-renowned vocal group, The Manhattan Transfer. Opening for the award-winning quartet will be The Honey Whiskey Trio; returning to the theater for back to back seasons.
Throughout the rest of the season, Temecula Theater's resident companies proudly present Fiddler On the Roof; Seussical The Musical; A Christmas Carol; Christmas In The Air; The Nutcracker Ballet; Cheaper By The Dozen; Jekyll & Hyde; Guys & Dolls; Mother's Day: A Celebration In Song; and South Pacific.
The Theater's 2015-16 line up will also include a return of Temecula Presents' popular Dance, Groove, Classical, Big Band, Aloha, and the Legends series'.
At the adjacent The Merc 48-seat venue, the theater will continue with their weekly "…at the Merc" music and theater series' featuring several genres including Classics, Country, Cabaret, Speak Easy, Dixieland, Comedy, Jazz and others.
Newly added events and performances are: TEDxTemecula 2015 Conference "Masquerade" on Saturday, October 31st, and The Barn Stage Company's production of Rodgers & Hammerstein's Carousel in Concert this March.
Continuing with the City of Temecula's "Temecula has Heart" initiative, the new theater season will include the theme of "Seasoned with Love."
For more information on additional shows or to purchase tickets, visit the theater's website at www.temeculatheater.org and keep checking back to What's Up? Temecula for featured articles on specific shows and artists.
Congratulations to the Old Town Temecula Community Theater for 10 years of exemplary service to the community through arts and culture enrichment and we look forward to seeing what you have in store throughout the upcoming year!