Feel the Aloha Spirit at Lorimar Winery's Lei'd Back Luau
In the climatic scenes of one of the finest theatrical musicals of all time, Grease 2, rebellious Pink Lady Stephanie (young and gorgeous Michelle Pfeiffer!) and bookish foreigner-turned-cool rider Michael finally get together amongst the romantic setting of Rydell High's "Rock-a-Hula Luau." Now you can experience similar aloha spirit this Friday at Lorimar Winery's Lei'd Back Luau.
For those who won't have the chance to make it out to Hawaii this summer, Lorimar's Lei'd Back Luau will transport guests to the islands, complete will all the essentials you would expect from this type of hula hoedown. Guests will receive the traditional lei greeting and enjoy live Hawaiian music, hula dancers and other traditional island entertainment.
Attendees are encouraged to come in their favorite Hawaiian garb like grass skirts, sarongs and aloha palm tree shirts, though it's not required. For those lacking in hibiscus printed gear, my dad has a few Reyn Spooner's you can borrow. (Extra points to the brave soul who comes dressed as Adrian Zmed's "Johnny" when he arrived as luau king.)
In true o'hana style, Lorimar's Lei'd Back Luau will include an all-you-can-eat buffet of island favorites like huli huli pork and chicken, baked mahi mahi with fruit salsa, plate lunch-style mac salad and fried rice and lots of tropical fruits and veggies. No word of whether they'll have poi, a traditional luau staple, but I hear it tastes like paste, anyway.
It is a winery, so there will be wine specials and each attendee will be treated to Lorimar's festive lorimai-tai, hopefully complete with the little umbrellas. You can't have a luau without the little umbrellas. (Stephanie Zinone even wore one behind her ear!)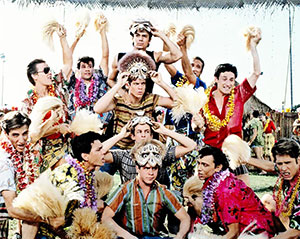 Tickets to Lorimar's Lei'd Back Luau are $55 plus tax per person / $50 wine club, which includes the dinner, activities and entertainment and one signature lorimai-tai. You can purchase tickets online, in the tasting room, by email at events@lorimarwinery.com, or by calling 951-694-6699 x4. This is a 21 years of age and over event.
So pin some flowers in your hair, grab your Pink Ladies and T-Birds and enjoy your own rock-a-hula good time at Lorimar Winery's Lei'd Back Luau. If you're lucky, it won't be destroyed by "Crater Face" Balmudo and the rest of the Scorpions crashing the party on their hogs.
(I realize that, if you haven't seen Grease 2, you haven't gotten any of these references. But that's your own fault for neglecting such cinematic genius. Now, will some winery please have a bowling night? I'd love to do a story with some "Let's Bowl, Let's Bowl, Let's Rock and Roll" references.)