Country Rockers Kanan Road Return to Wine Country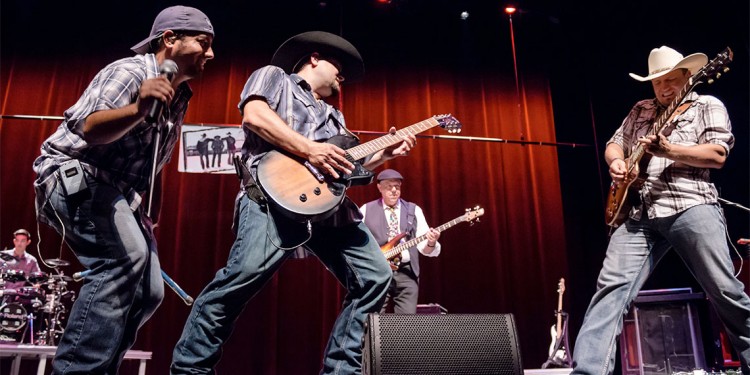 L
ast October, while my family and I were enjoying the Lorimar Winery pumpkin carving party, I noticed dozens of cowboy boot-clad locals flocking to the same venue and, although it is a lot of fun to make jack-o-lanterns with the kids, I couldn't imagine that is why so many people had come out to Lorimar that night.
As the evening when on, I kept stopping to listen to the live band who was playing just up the driveway. They were so good and so professional, I remember pulling out my phone and making a note to myself that I had to interview and do a story about these guys, whomever they were, because my readers had to know about their awesome sound. I asked around and found out that the band was country rock crooners, Kanan Road, and they are returning to Lorimar Winery this weekend.
Brothers Kanan, Kyle and Kory Cox formed Kanan Road over fifteen years ago, as teenagers, in Palmdale. Together with Rick Rickards on bass and drummer Brandon Scott, Kanan Road has found success opening for such big names as The Band Perry, Scotty McCreery, and Blue Oyster Cult, among others. They can be found headlining at venues all over Southern California, including locally at the Temecula Balloon and Wine Festival and all over wine country.
Though they entice the audience with familiar covers by some of their favorite artists, the members of Kanan Road win over fans with their own material.
"We love to play cover songs to show our influences and to give the audience familiarity however, we believe our original songs are just as great and exciting," Kanan Cox said.
Kanan Road's new album, "Back on Track," is currently available at all performances as well on iTunes, CDBaby.com and on the band's website Kananroadband.com. For those who are unfamiliar with the group and their music, their website gives you a sneak peek into their sound.
When they return to Lorimar Winery this Friday night, Kanan Road promises a rocking start to everyone's weekend, even if there won't be any pumpkins.
"The audience can expect lots and lots of energy, super powerful guitars, vocals and lyrics," Cox said. "[We have a] crisp and clear sound and an atmosphere of fun, excitement and laughter that, paired with the delicious Lorimar wine, will surely help you forget about the long week behind you."