Temecula Valley Family Fair Announces Entertainment Line Up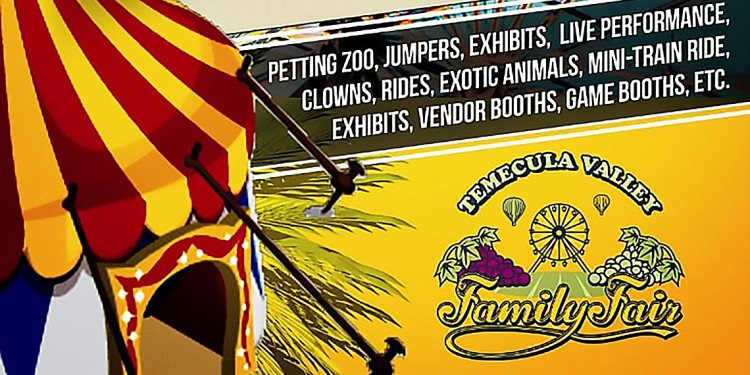 The newly-announced entertainment and schedule of activities for the Temecula Valley Family Fair, debuting late next month, evoke the images of old fashioned county fairs all over the country. With carnival rides, fair food, vendors, animals and live entertainment, the fair promises three days of family fun!
For the thrill seeker, there will be more than 20 carnival rides in store for fair guests, including classics like the Giant Wheel, the Zipper, the Tilt-a-Whirl, fun houses, slides and bumper cars. For those who like something a little bit tamer, there will be a bounce house and kiddy rides for the little ones.
For the competitive types, competitions will be held in everything from arts and crafts, photography, "beard and mustache," Lego building, balloon races and, of course, the fair favorite – pie eating.
For the animal lover, a petting zoo as well as a butterfly exhibit will allow guests to get up close and personal with furry and flying friends.
To add a little magic, special guests will be mingling with the crowd during the three-day event. Some special visitors will include the Disney Princesses, hypnotists, circus performers and even the Easter Bunny will be on hand to meet and greet the fair's youngest visitors and welcome in the Spring.
Finally, top-notch entertainment will conclude every evening at the fair. Country music star Randy Houser will headline the Main Stage on Friday night and up-and-coming pop star, Becky G, will rock the house on Saturday. Sunday's entertainment has yet to be announced.
The Temecula Valley Family Fair will be held on March 27th through the 29th at Lake Skinner. More information about all the exciting happenings will be announced as the fair draws closer, so stay tuned to What's Up? Temecula for everything you need to know about this inaugural event. It's sure to become a Temecula Valley tradition!