Chicago Brings Their Musical Legacy to Pechanga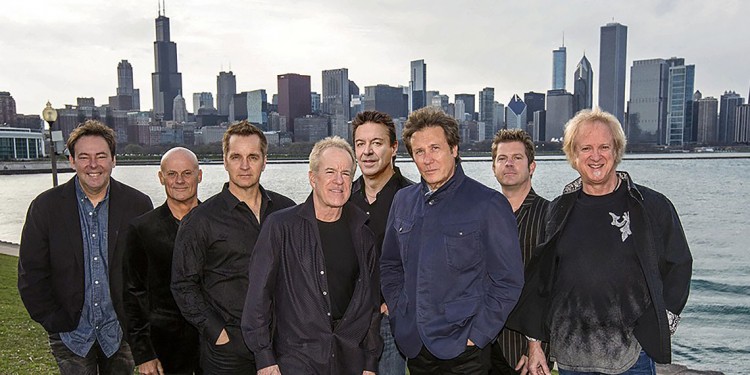 I
n 1967, a group of six college students, calling themselves "The Big Thing," formed a cover band and played Top 40 hits throughout their hometown of Chicago. After adding a seventh member, a local tenor and bassist by the name of Peter Cetera, the fledgling group of Midwest musicians began creating original material and, a year later, headed to Los Angeles where "The Big Thing" could try their hand at making it "big." The band name didn't stick but, upon rebranding themselves after the town they had left behind, the Chicago Transit Authority quickly signed with Columbia Records and their self-titled album produced numerous hits, sold over one million copies and eventually went platinum. And, with that first album release, now 45 years ago, the self-described "rock band with horns," now simply known as Chicago, was just getting started on an unmatched music legacy.
Second only to the Beach Boys for the most Billboard Chart-topping albums and singles by an American band, Chicago has solidified their place in musical history; releasing 23 gold, 18 platinum and 8 multi-platinum albums and 21 top-ten hits including "Saturday in the Park," "If You Leave Me Now," "You're the Inspiration," "Will You Still Love Me," and "Look Away."
When Cetera chose to leave the band in 1985 to pursue a solo career, he was replaced with young bassist and singer, Jason Scheff. I recently had the great pleasure of speaking with Scheff about his naïvete, when it came to processing the once-in-a-lifetime opportunity he was given, now three decades ago.
"When I walked in, the band was really at the top of the food chain in pop music. They were coming off of [the album] Chicago 17, with hits like 'You're the Inspiration' and 'Hard Habit to Break' still in heavy rotation on pop radio, not to mention the older songs were still being played on classic rock radio," Scheff said. "At that moment, everything was contingent on things working and happening and it was just such an unbelievable amount of pressure, but luckily I was too young to really feel overwhelmed by it."
A San Diego native, Scheff grew up listening to renowned radio personality Shotgun Tom Kelly on local radio stations KCBQ and later B100 and he credits Kelly with introducing him to the music of the band he would someday join; allowing Scheff to describe the unique sound of Chicago as a fan first, band member second.
"Going back to the stuff that [Chicago] did before me, up to Chicago 17, I've always said that that was a body of work that, like classical music, stands the test of time and we will be still be listening to it in 200, 300 years," he said. "And I can say that objectively because I wasn't part of the band at that time."
Scheff's situation was unique, in that most young musicians won't have one of the most successful bands on the radio ask you to become their lead singer, a la Mark Walberg in "Rock Star," and Chicago's lead vocalist can thank his mother for allowing him to take full advantage of the opportunity.
"When my mother bought me a vocal lesson for my 21st birthday, I thought it was stupid and I'd go in, take my lesson and walk out. But, after I took the lesson, all I could think about was when am I coming back and how many times a week? It just lit me up and I didn't even know that anything was going to happen. But, by the time Chicago came a-knockin', I was prepared. I think a lot of people are trying to just hit the grand slam without putting the reps in and so, if you are singer, get a vocal coach and start studying. If you are an instrumentalist, do the same thing. Get into something that is having you do your craft all the time because preparation is key."
Although he was originally compared to his popular predecessor, after 30+ years with the band, Scheff's career with Chicago far surpasses the two-decade Cetera-era.
"Originally, when I started hearing people make comparisons [to Cetera] it was a little tough and strange but, after about ten years, it sort of wears off." he said. "The road narrows and there aren't very many of us out there, classic artists, so I've really grown and matured to realize that it doesn't matter if people are going to say anything negative about you or make comparisons and it's a fortunate place to be. And now, thirty years later, we are all friends. I spend time with Peter and he enjoys what I do and he is happy that I was able to step in and keep the legacy going."
Chicago has lost and gained a few members along the way, but the music remains constant. With Scheff, current touring members include founding members Robert Lamm (keyboard / vocals), Lee Loughnane (trumpet / vocals), and James Pankow (trombone / vocals) and Walter Parazaider (woodwinds) as well as Tris Imboden (drums), Keith Howland (guitar / vocals), Lou Pardini (keyboards / vocals) and Walfredo Reyes Jr. (percussion).
When they take the main stage at Pechanga Resort and Casino on February 27th, Scheff and the other members of Chicago look forward to the audience connecting on a personal level to their iconic hits.
"These songs have really become the soundtrack of people's lives," he said. "There are a lot of people who come and know exactly what the songs are and are looking forward to our performing them. Then there are some people who say they know Chicago, and maybe they do know a song or two, who sit there and say 'That's them? And that's them, too?' It really is like opening a diary and letting it take you back to where you were when you first heard the song."
They may have named their band after one beloved city in Illinois, but the admiration and passion for Chicago's music has captured the hearts and created cherished memories for legions of fans worldwide.
"I just feel so fortunate that I was in the right place at the right time," Scheff said. "These guys brought me into their family and I see the effect their music has. I see people all the way from Vietnam Vets, who are taking the original music in, to people who are just discovering us today. It's amazing to see the affect the music can still have on people and I think they are grateful that we are able to bring this music out to them after all these years."