PseudoRandomNoise is Heard at the Merc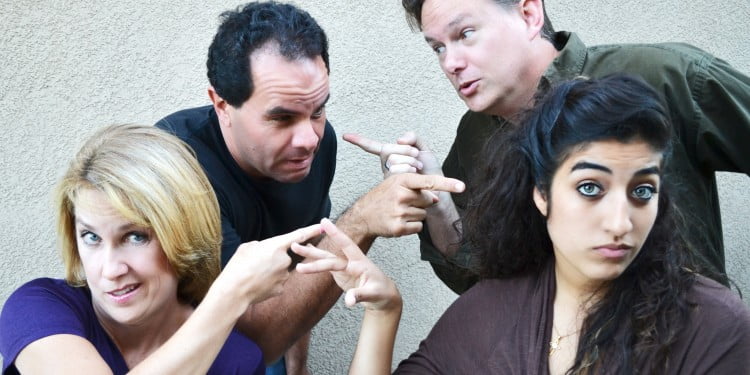 Improv Comedy: Audience Participation Required
When Whose Line is it, Anyway? premiered on ABC in 1998, Drew Carey and cast introduced America to a form of unscripted comedy unlike anything else on TV. Now Inland Empire residents can not only see but also participate in the same kind of hilarious interactive entertainment, as PsuedoRandomNoise (PRN) brings "ImproVACATIONS!" to Old Town.
"PRN is the premier improv comedy show troupe in the Inland Empire, whose primary goals are to give audiences a truly unique, never-repeated experience in improvisational comedy as a innovative alternative to traditional music, theater, or stand up entertainment," John Kelly, PRN founder, said during a recent interview. "Imagine a play, a song, a poem, or a comedy sitcom and then having it presented without benefit of a script or rehearsals, and you start to understand the cutting edge, dangerous hilarity of improv comedy."
With nine current troupe members and five provisional players, Kelly is confident the current PRN roster is the highest caliber of talent in the business.
The ability to always create something new increases the effect, making each show a unique once in a lifetime event…
"We seed our troupe with truly tremendous acting, singing, dancing, musical, and other talent-capable folks who come from local and regional areas surrounding Temecula," he said. "We are truly fortunate to be able to engage and share with our audiences some of the most fantastic comedic talents in Southern California who love the simple act of entertaining without a net."
Appearing the last Saturday of every month at the Old Town Temecula Community Theater's intimate venue known as "The Merc," the members of PRN's troupe especially enjoy audience members who may be unfamiliar with the improv style of entertainment.
"Improv is often a challenge to understand for those who are used to only stand up, theater, music or other listening forms of entertainment," Kelly said. "But once exposed, the overwhelming response is not only 'terrific!' but 'I want more! Do it again!. The ability to always create something new increases the effect, making each show a unique once in a lifetime event for those there."
A visit to an improv show promises one-of-a-kind performances every time, as the unscripted format relies greatly on audience participation and involvement. Kelly emphasizes that PRN's improvisational style is especially unique; involving their audience even more than the typical "give me a profession! give me a household object!" classic type of improv.
"We encourage audience members to help, write, direct, and even act with PRN's tremendously gifted actors onstage in everything we do," Kelly said. "This creates a broader and more enjoyable experience for audiences who are used to simply showing up and clapping."
PRN performances currently include one or both of two shows, "ImproVACATIONS!" and "VS," with additional, more ambitious, projects are on the horizon.
"Our 'ImproVACATIONS!' show uses several short form scenes to extract hilarity from daily events, while our 'VS' show faces off different members and scenarios to build to a tremendous evening's ending," Kelly said. "Future shows include longer-form sketch and scene presentations and even fully improvised plays."
Whether you are a long-time fan of improv comedy or experiencing the format for the first time, Kelly and the cast of PseudoRandomNoise promise their audience an evening like none other.
"PRN is here for you, the community, and all those wanting to build and grow truly unique comedy entertainment," Kelly said. "We live to perform with you, not just with ourselves, because we've found that everyone in the area is actually quite funny. Hopefully you will, too."
PseudoRandomNoise
The Merc at Old Town Temecula Community Theater
The last Saturday of every month at 8pm