Classics at the Merc is Classical Music Up Close and Personal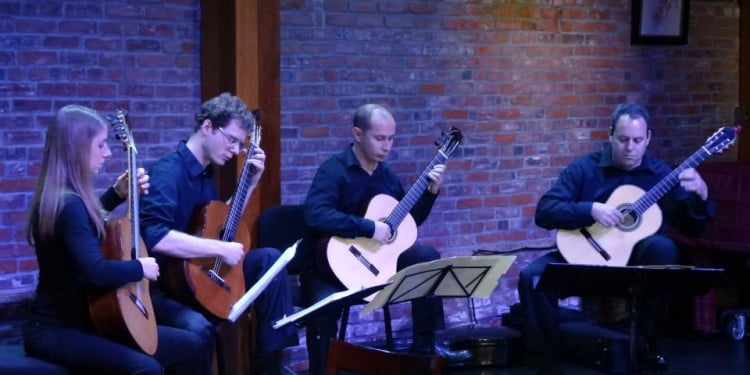 When the California Chamber Orchestra's Robert Culverhouse, Jr., partnered with Dana Zimbric, the Chamber's Artistic Director and Conductor, to continue the already successful Classics at the Merc series in 2011, they wanted to continue creating opportunities for local audiences to experience classical music in a more personal way.
"The goal is to offer the Inland Valley community a classical music experience in a relaxed and intimate setting," Culverhouse said during a recent interview. "We want the listening public to know that classical music is accessible and enjoyable for everyone, right in our own backyard."
Every Sunday afternoon at The Merc , Old Town Temecula Community Theater's  48-seat club venue, each performance consists of only a small handful of musicians, rather than the complete orchestra you would hear at a traditional California Chamber concert.
"Musicians performing for Classics at the Merc often comment on the Merc's wonderful acoustics.   Amplification is seldom needed," Culverhouse said. "The patrons can expect to hear a string quartet, a piano solo or perhaps a soprano voice, just to name some of the choices. Each Sunday's performance is unique."
"We want the listening public to know that classical music is accessible and enjoyable for everyone…"
Developed as a way for the entire family to enjoy classical music, Classics at the Merc is also an excellent learning opportunity for students to gain an appreciation for the genre.
"Immediately following each performance there is brief question and answer session with the artists and audience," Culverhouse said. "Students and other patrons can ask questions about each individual artist and the instruments being played."
Performances in August will begin on August 3rd, with Erin Breene (cello,) Robert Schumitsky (violin,) and Ines Irawati (piano). The August 10th concert will feature soprano, Christa Stevens accompanied by Ed Yarnelle on piano. Additional performances will take place on August 17th, 24th and 31st.
Check back weekly with What's Up? Temecula for information about the specific performances and musicians.
With performances already scheduled through January 2015, Classics at the Merc will continue to delight as well as educate the community on classical music for many months to come.
"The interest in this series from the musician community is overwhelming, with artists who have performed for us referring their colleagues for future performance consideration," Culverhouse said. "There is no need to travel long distances to hear exceptional classical music."
Classics at the Merc
The Merc at Old Town Temecula Community Theater
Sundays at 3pm