Pennypickle's Workshop is More Than Just a Children's Museum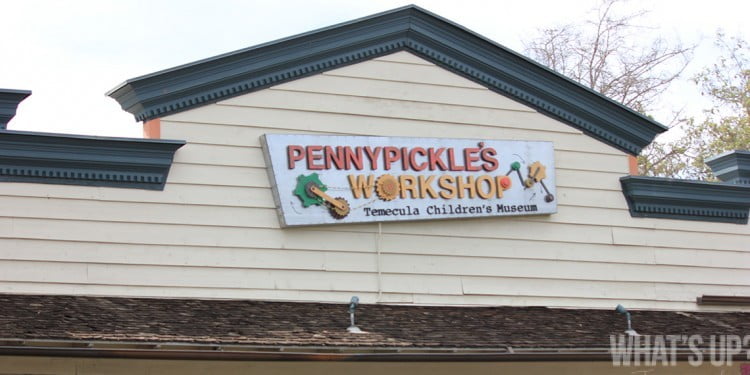 At the end of Main Street, tucked away in a small corner of Old Town, is one of Temecula's hidden gems. Pennypickle's Workshop, formerly the Imagination Workshop, is a must-see for Inland Empire families.
Now celebrating its 10th anniversary, the award-winning Pennypickle's Workshop is one part children's museum, one part science center and one part private residence of an individual who, from the look of things, is one wacky mad scientist.
"Professor Phineas Pennypickle is a mysterious, elusive, slightly absent-minded genius," Annette Brown, Board of Directors President, Friends of Temecula Children's Museum, said during a recent interview. "He has traveled the world and through time. His adventures and meetings with great minds from the past have inspired the multitude of inventions in the museum."
Pennypickle's Workshop is 7,500 square feet of space, designed to represent the professor's place of residence, workshop and laboratory. Each of the many rooms is filled with crazy gadgets, experiments and one-of-a-kind inventions by the professor himself. Children are encouraged to play with everything, from the food in the professor's kitchen to the time traveling chair in his library.
Though everyone is welcome to explore everything about the professor's domain, don't expect to run into the man himself.
"Though his house guests have not personally met him, he's shy and always buried in his work upstairs or traveling through time, they listen intently to stories about the Professor, ask questions, and respond in awe," Brown said.
All aspects of the workshop are designed to teach science with a hands-on approach to learning.
"Children are visual, active, learners. At Pennypickle's they are able to use all of their senses and that makes learning fun," Brown said. "The experiments, as well as the gadgets and gizmos, open kids' eyes a little wider to the wonder of our world."
The museum frequently hosts special events and adventures, including special experiments, themed parties and seasonal activities for the holidays.
In addition, Pennypickle's Gift Shop offers visitors a chance to bring some of the science fun home with them. All proceeds from the gift shop benefit the workshop.
Pennypickle's Workshop is open for three sessions per day, Tuesday through Saturday, two sessions on Sunday, and they are currently open select Mondays during the summer months. An up-to-date schedule can be found on their website.
A Nickelodeon Parent's Pick Award winner for "Best Museum," Pennypickle's Workshop gives the younger members of the community a place to call their own.
"Temecula Valley has an incredible, top quality science-based children's museum, where science is fun," Brown said. "With so much to see and do, you will keep coming back for more."
Pennypickle's Workshop
Old Town Temecula