Promenade Temecula Hosts Street Painting Workshop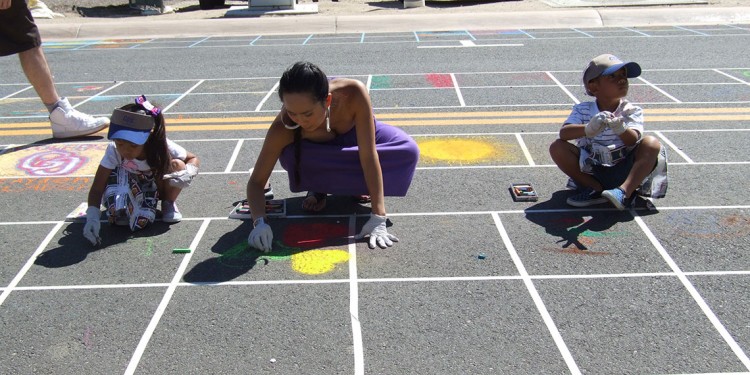 H
ave you ever gone to a street art festival, maybe in Old Town Temecula or Little Italy in San Diego, and said "I could totally do that,"? Well, now is your chance to be proven wrong! (Because really, who are you kidding? Those are professional artists.) Maybe you won't be able to create the next Mona Lisa, but you can certainly "chalk" this one up to a good time because the Promenade Temecula has your perfect opportunity to unleash your inner artist!
Come on down to the outdoor plaza of the mall this Saturday, February 21st from 10:00 am to 2:00 pm because everyone's invited to be a part of the Promenade Temecula's Street Painting Workshop.
Participants will be encouraged to use their creativity and imagination, while learning how to transfer a small 2D image into a full-scale work of asphalt art. Those in attendance will channel their personal Picasso (assuming he ever did street art), by learning artistic techniques including sketching, blending, and various detail work. A 48-color palette of chalk pastels will be available for all participants to use at no cost, however those who have their own supplies are urged to bring them along.
In addition to supplemental supplies, each participant is asked to bring an image of their choice to bring to life on the cobblestone canvas. Workshop organizers advise artists to choose an image of one dominant subject matter, such as a cartoon character or superhero, for clarity and to make the most impact. (I call dibs on Perry the Platypus.)
It's up to the artist what they choose to represent, however don't think of going down there expecting to promote your new business or to slam your least favorite politician. This is a public, family event so no political statements, logos or advertisements of any kind will be permitted. (Perry won't be wearing a What's Up? Temecula fedora, as cool as that would be.)
No advanced reservations are required to attend the Street Painting Workshop. Just stop by the outdoor plaza of the Promenade Temecula between 10:00 am and 2:00 pm on Saturday and be prepared to make a masterpiece!
(And be on the lookout for my portrait of a "semi-aquatic egg-laying mammal of action.")