The Best Places to Grab a Drink in the Temecula Valley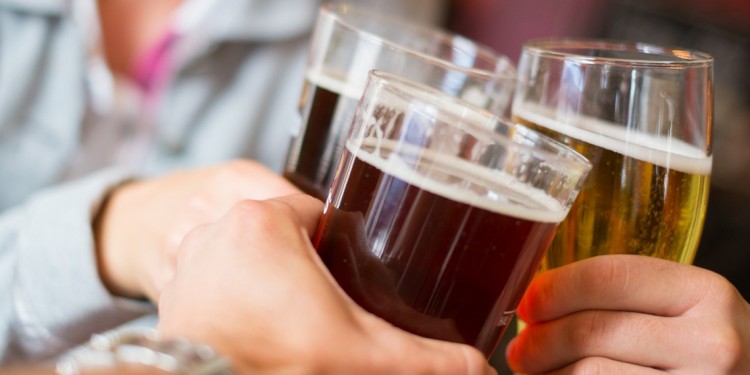 Best Places to Grab a Drink in Murrieta and Beyond
Here are a few awesome choices for our drinking friends to the North and, by saying that, I mean Murrieta and Winchester, not Canada.
J. Carter's Tavern and Grill
40365 Murrieta Hot Springs Road #C-14, Murrieta
I'm basically good with any place that calls itself a tavern because that word just evokes cozy friendliness, like Cheers, and J. Carter's Tavern and Grill fits the bill. It's the kind of place to watch the game with a beer and a juicy burger. What else do we need in life?
J. Carter's Happy Hour is every day from 4-7pm but, during Monday Night Football, Happy Hour is extended until close. Happy Hour specials include $3 off appetizers, $2 off seafood appetizers, and $1 off alcohol and beer. On Tuesdays, you can get half off bottles of wine all day and Thursdays they have specialty martinis for $5.75. Live music is every Wednesday through Saturday nights.
During the holidays, J. Carter's can host any party, large or small, where you can choose to order off the menu or have a special menu to fit your needs and budget. Plus, don't you want your holiday party in a tavern? It sounds like Thomas Jefferson or Benjamin Franklin would be joining you for some wassel.
Spelly's Pub and Grill
40675 Murrieta Hot Springs Road, Murrieta
I have a confession. I haven't actually been to Spelly's but chose to include it because, judging from Facebook check-ins, all my friends in Murrieta practically live at this place. So I know it must be pretty darn cool.
Happy Hour at Spelly's is Monday through Friday from 3-7pm, where there is half off most appetizers, $4 well drinks, $1 off every beer and $2 off signature cocktails like the Passion Play, Green Monster, Big Red and the Screaming Viking. You almost have to visit just to see what's in those things.
I've heard they have the best burgers in town so if you are looking for something more unconventional than turkey, they are open on Thanksgiving. It is a football-based holiday, after all, so a sports bar might be the best place to celebrate those pilgrims.
Skybox Grill and Tavern (hooray for taverns!)
30724 Benton Rd Suite C-308, Winchester
My best friend just moved up the street from Skybox Grill and, since it's a new area of town filled with new housing developments, I thought maybe those just moving to the neighborhood could benefit from a little bit of information. Every neighborhood needs a good tavern!
The Happy Hour at Skybox is every day from 2-6pm, where it's $1 off every drink in the place. There's also a $5.99 Happy Hour food menu, which includes a Thai chicken salad, cheeseburger sliders and fries and a pesto pasta salad.
Known for their top secret Bloody Mary recipe, Skybox also has classic cocktails for your rat pack ranging from vodka tonics to old fashions to dirty martinis. If you're ordering for me, I like my martinis extra dirty, like put a little liquor in my olive juice, please.
Weekly specials at Skybox include Martini Monday, where you can order any martini for $6. Fiesta Tuesday has $2 beef, chicken, or pork tacos and $4 margaritas and tequila sunrises. Wine Wednesday has house wines on sale and bottles are half off. Thirsty Thursday (Kathie Lee and Hoda!) has $5 Long Islands and Long Beaches. Finally, on Fridays, the bartender calls it so if your life is lacking mystery, come by on Friday. You never know what you'll get!
On weekends, Skybox is football central and on Sundays they are open at 9 am for breakfast, so the early birds can stake a claim on the best game-viewing seat in the house. Now gussied up for the holidays, it's a great time to check out the jingle-balls at this sports bar.
Bulldog Brewery
41379 Date Street, Suite B, Murrieta
This place is a brewery disguised as a really good restaurant. Inside it looks like most of the other breweries; somewhat industrial with those exposed barrel thingys, but then they hand you a menu with gourmet flatbreads, paninis and sliders. There's even an appetizer called Kibbles and Bits (that isn't trademarked?), which is a pile of chips covered with beer braised pulled pork, cheese, grilled onions, bell peppers and chives, then topped with BBQ sauce and sour cream. Is that beer food or what?
There's also a brand new Brewmaster who has introduced new beers including Belgian Blonde, Irish Stout, IPA and Coconut Porter and I'm told there are a lot more on the way. So come for Happy Hour on Friday nights and stay for live music from 7-10 pm.
Bulldog Brewery is definitely the cat's meow! (Yes, I just said that. Give me a break. This is a really long column and I'm running out of witty bar puns).