The Best Places to Grab a Drink in the Temecula Valley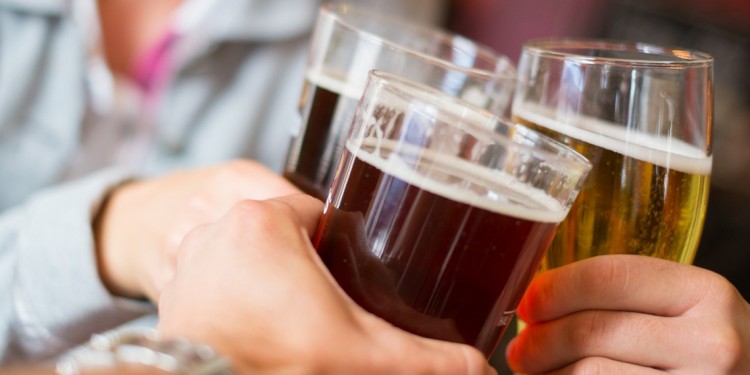 Best Places to Grab a Drink in Old Town Temecula
Garage Brewing Co.
29095 Old Town Front Street, Temecula
Located on the south end of Front Street in Old Town, the new Garage Brewing Co. is in the perfect location to begin a Temecula pub and brewery crawl. The winner of the City of Temecula's 25th Anniversary survey for best brewery, Garage Brewing Co. doesn't have a happy hour, but instead offers seasonal specials and events like the recent Veteran's Day special, where they offered a free German pretzel with a 16oz pour of their Raspberry Session Saison.
Come by on Tap-a-Beer Tuesday, where you can get a 16oz pour of their new release beer for $6, including the souvenir logo glass and two $4 refills.
And what goes better with fresh microbrews than cheesy pizza? Garage Brewing Co. has custom built creations, where customers can imagine their own culinary masterpiece from a variety of unique toppings. This holiday season, enjoy pumpkin pie dessert pizza and seasonal beers including Pumpkin Porter and Marshmallow Stout and, coming soon, Holidation Brew.
The pizza as well as the beer prices can't be beat and don't hesitate to ask the bartender for two or three samples of their exclusive brews because there are a lot to choose from! It's the perfect place to toast the holidays with a pint and pie!
The Bank of Mexican Food
28645 Old Town Front Street, Old Town Temecula
Housed in one of the most historic buildings in Old Town Temecula, The Bank of Mexican Food was, at one time, an actual bank. You can even have a seat inside what was once the bank's vault!
Happy Hour at The Bank is Monday through Friday, from 3-9 pm, inside the restaurant or outside on their popular open-air patio bar; a great place for people watching as your fellow townsfolk start abandoning their daily toils in search of a freshly poured ale.
Happy Hour draft beer prices are $3 for domestics, including the ever-popular silver bullet and, since it is a Mexican food place, Pacifico. Bottled beers are a bit more at $3.50. On Tacos de Martes (Taco Tuesday), Corona and Pacifico are Happy Hour prices all night long. Incidentally, they actually call it Taco Tuesday, but I changed it because I'm the person who thinks they should be called El Banco, as mentioned here (#11). But maybe that's just me.
If a frosty cocktail is more your speed, the house special at The Bank is the El Jefe, a secret-recipe signature margarita made with Reposado tequila that's sure to make your taste buds say "Aye Carumba!" (I'm going too far with this, I know). Other specialty drinks include a Chipotle Pineapple Margarita, the Ultimate Bloody Mary and a Cilantro Absolut Bloody Mary. To jive with the City of Temecula's "Chilled" concept for the holiday season (article coming soon!), The Bank has a special "chilled" menu to warm you up on cold nights. Muy delicioso!
Lorimar Loft
42031 Main Street, Old Town Temecula
If you are a wine-lover or just a weekend taster, you may have visited Lorimar Vineyards and Winery a dozen times, but did you know there is an additional tasting location in Old Town? Lorimar Loft has tastings seven days a week, as well as live music and special events in the evenings, when the wine country tasting rooms are closing up shop.
Happy Hour at Lorimar Loft is Monday through Thursday from 5-7 pm, which includes $5 select glasses of wine and special bottle discounts. Specialty drinks include caramel apple sangria which is perfect for fall, and everyone's favorite morning refreshment, mimosas, that come in original as well as orange and pomegranate flavors.
To accommodate the desire for a drink after an exhausting day of Christmas shopping, Lorimar Loft's holiday hours are extended. Starting November 23rd, the hours at Lorimar Loft will be Sunday/Monday from 11am-8pm, Tuesday through Thursday from 1-8pm and Friday and Saturday from 11am-10pm. So, grab your gifts at some of the great Old Town merchants, then a much needed glass of vino at Lorimar Loft.
Luke's on Front
28693 Old Town Front Street #402
Luke's on Front is one of Old Town's newest neighbors; even occupying the top of a shiny new brick building on the South end of Front Street. But, regardless of the fact that it hasn't been around very long, the place has already made a name for itself, due to its awesome view and unique menu.
Come on by at Happy Hour, Monday through Friday from 3:30 – 6:30 pm, for $3 off appetizers, $6 house wines and $1 off all other wines listed. For beer drinkers, there's $5 local 16oz draft craft beers and $4 Coors Light/Bud Light drafts as well as $1 off all specialty drinks. Some exclusions do apply.
During football season, Happy Hour is extended to 9pm on Monday and Thursday and runs all day Sunday, so it's the perfect place to cheer on your team (which, for me, is the Chargers…regrettably).
The Gambling Cowboy
42072 5th St. Third Floor, Old Town
With its prime (rib) location in the heart of Old Town, the Gambling Cowboy is a perennial favorite among locals for special occasion dining and weekend brunch. Though they are famous for their prime rib and t-bone steaks, they aren't just a place to take Grandma on Christmas Eve.
Happy Hour is Tuesday through Thursday from 3 pm to close and Friday through Sunday from 3-6 pm. Specialty drinks include the spicy Reverse Cowgirl Martini (yee-ha!), and the High Roller and the Ranch Hand, which are hand-muddled cocktails with seasonal fruits and herbs.
If you are in it for the beef, which is excellent, The Gambling Cowboy just introduced their Prime Rib Happy Hour, Sunday through Thursday (they're closed on Mondays), from 3-6 pm, where you can get special prices on prime rib with all the fixings.
But, if special occasion dining is what you need, The Gambling Cowboy will be serving full Thanksgiving dinner with a choice of entrees and all the traditional sides so give them a call for a reservation and gobble, gobble, gobble it up! (Pun intended).
Temecula Stampede
28721 Front Street
If you like a little boot-scooting with your beer, the Temecula Stampede is the place for you. A gigantic, yet casual and inviting place, Stampede is filled with cowboys and cowgirls…and, when I say "cowgirl," I mean girls in skinny jeans, tank tops and boots. Seriously, it's like the uniform at this place.
Stampede is a favorite spot for locals to kick up their heels, play some pool or just grab a drink and some vittles. They were once limited in the beer selection department, but recently have added Stone Pale Ale and other IPA's and craft beers on tap so the beer variety is now as good as the DJ. So, mosey on down to Temecula Stampede, work up a sweat on the dance floor and cool off with a Stone. Just don't forget your boots!