La Tomatina 2014: Food Fight for a Cause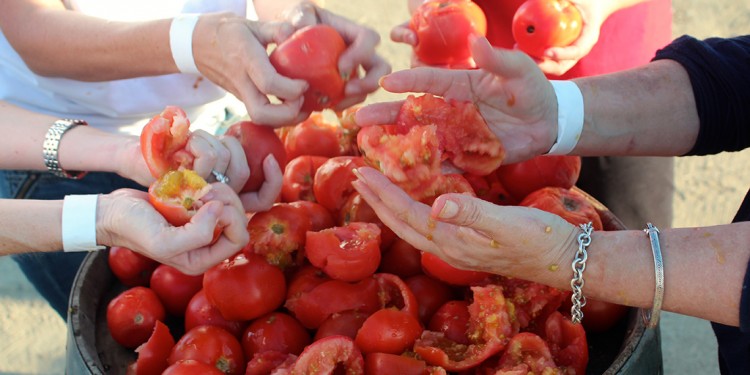 It may look like an eccentric way to make marinara, but Europa Village Winery's La Tomatina 2014 is actually based on a crazy little piece of European history.
"The event is patterned after the Tomatina Festival in Spain," Jennifer Kopack, Société Europa Membership Coordinator said. "We try to recreate events that are held in each of the three countries that we represent at Europa Village [which are] Italy, France and Spain."
Held on the last Wednesday in August, the decades old La Tomatina is an annual festival in Valencia, Spain, where thousands of participants pelt each other with tomatoes, purely for enjoyment.
Europa Village's version of the messy tradition is held for more than just fun; it is a benefit for Safe Alternatives for Everyone, or S.A.F.E, which is a nonprofit organization committed to providing assistance to victims of domestic violence.
A 21 and over event, Temecula's La Tomatina has becoming almost as anticipated as its Spanish cousin.
"This will be our third year holding this event and it's growing each year," Kopack said.
The ticket price includes a full afternoon of live entertainment and culinary delights; modeled as closely to the Spanish event as possible; complementing the European flavor of the winery itself.
"On our Spanish-style veranda we will serve a Spanish meal prepared by our Executive Chef, Dean Thomas," Kopack said. "We will present live Spanish-themed music and then orchestrate a massive tomato fight amongst the vines."
Ticket prices include participation in the tomato fight, live entertainment, gourmet fare prepared by a top area chef, one glass of Europa Village wine, and a souvenir t-shirt commemorating the one-of-a-kind wine country event.
Whether you are looking to get sloppy for a good cause or just enjoy an afternoon of Spanish culture while remaining clean, Europa Village Winery's La Tomatina Festival 2014 is good, saucy fun!
"You have the chance to be daring enough to get covered in tomatoes or simply enjoy the excitement of the tomato fight from a distance," Kopack said. "Whichever option you choose, we hope you join us for this unforgettably fun night."