Trio Ellas Mixes Latin Music with American Pop for a Unique Sound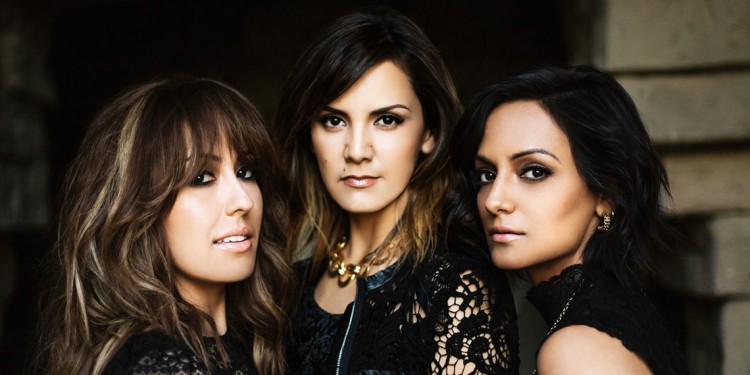 The music of Trio Ellas is hard to describe, even for them.
"Our first album, 'Con Ustedes…,' was nominated for Ranchera Album of the Year, but the album we just released, 'Noches Angelinas,' was actually kicked out of the Ranchera category and reassigned as a pop album," Suemy Gonzalez (violin and vocals) said. "So we are somewhere in between. Our roots are in traditional Latin music but our musical influences also come from growing up in the U.S."
With Gonzalez, Trio Ellas includes Stephanie Amaro (guitar, vocals,) and Nelly Cortez (guitaron, vocals.) Their music combines a variety of musical styles to make one unique sound; but referring to them as one popular Latin genre, in particular, would be a misnomer.
"The misconception is that we're a mariachi. We're not," Amaro said. "A mariachi has at least three violins and a vihuela and trumpets. And although we all have our individual history playing that music and touring with mariachi groups, we definitely don't call ourselves a mariachi now. We're a trio."
Becoming a trio, as opposed to a full band, sort of happened to Trio Ellas by default.
"We actually started playing for tips at restaurants," Cortez said. "Work was slow at the time and we found that cutting out the rest of the group and playing as a three-piece was a great way to up our revenue. We would go table to table taking song requests."
Even if it was a financial decision and not a creative one, becoming a threesome really paid off for the ladies of Trio Ellas, with their latest album breaking the top fifteen on the Latin Billboard chart.
When they come to the Old Town Temecula Community Theater this week, Trio Ellas will showcase their mix of their most recent, as well as their classic, song selections.
"We will definitely be playing songs from our new album, which is a poppier take on our previous sound, but we'll mix in the old album with its romantic boleros and huastecas as well," Amaro said. "We may bust out some American pop or country too."
The members of Trio Ellas are especially thrilled to bring their talents to Temecula and look forward to partaking in the fruits of the valley.
"We love a raucous audience, especially if the concert is nice enough to put a bottle or two of that famous Temecula wine in our dressing room," Gonzalez said. "We know [the area] is famous for their wineries and breweries and we hope the people of Temecula will be welcoming and ready to have a great time. We plan on bringing our 'A' game."