New Musical Based On the Work of John Mayer Premieres in Old Town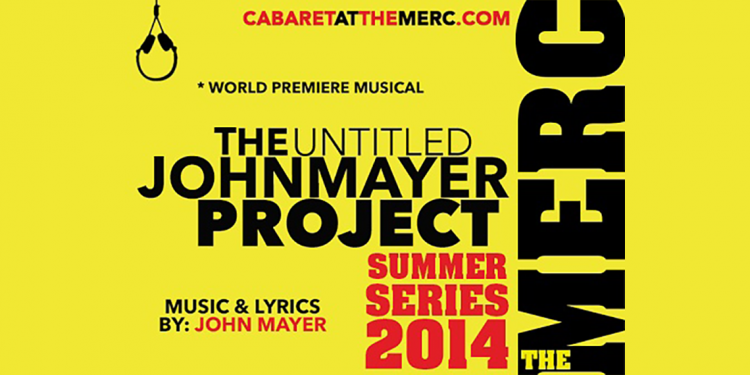 When Cabaret at the Merc Producers, J. Scott Lapp and Jordan Beck, were planning their first Summer Series, they wanted to end their hugely popular season with something extra special.
"Part of our plans were to produce new works and pieces that have never been seen before to help develop them and give writers and artists a platform to produce their work. So we decided that our third production should be a new piece," Lapp said. "In developing the piece, Jordan came to me with the idea of finding a popular mainstream artist and developing their catalogue into a jukebox musical. With popular shows like Jersey Boys, Mamma Mia and more, Broadway producers are interested in finding productions with a built in audience."
After exploring the work of numerous contemporary artists, Beck and Lapp chose Grammy Award-winning multi-platinum recording artist, John Mayer. The hard part was taking a selection of Mayer's songs from six albums, spanning a decade, and turning them into one cohesive musical.
"Both of us are huge fans of his music because he's not only a great songwriter, but he's an incredible storyteller as well, which is important when you're creating a theatrical piece like this," Beck said. "We definitely had to think outside of the box when figuring out how to fit certain songs into the story, and I think that's what will really stand out from most jukebox musicals. We started with a story first, then found the songs that would help tell that story, not the other way around."
Lapp and Beck recruited San Diego's Leonard Patton to take Mayer's music, which was so immensely recognizable, and arrange it into something unique to the burgeoning theatrical work.
"I'm really excited for people who know his songs to hear them in a fresh new way," Beck said. "One of the main reasons you develop something is to see where it might go and, though we don't know the future of this project just yet, it's a chance to see something for the very first time."
The Untitled John Mayer Project stars Taran Gray as the lead role of John (not John Mayer). He's joined by Emily Lopez as Sara, Joshua David Cavanaugh as Chad, Jennifer Sun Bell as Olivia, Nick Wuebben as Blake, Daniel J. Fillipi as Patrick and Hayley Marian as Chloe; all accomplished musical theater professionals.
According to their press materials, the story of The Untitled John Mayer Project is one of "young love, roadtrips, heartbreak and friendship that will spring to life for the first time."
With the book written by Beck, direction by Lapp and musical arrangements by Patton, The Untitled John Mayer Project premieres its workshop performances this week in Old Town, giving the audience the unique and exciting chance to be part of the creative process.
"I think it's always fascinating to be a part of something brand new; breathing life into the show for the first time," Lapp said. "The audiences that come to The Merc to see The Untitled John Mayer Project are seeing a brand new piece of musical theater that's never been seen before, by anyone. They have the opportunity to help us shape the show as we listen to what works and what doesn't work. Not to mention, the music of John Mayer is incredible and the voices and musicians we have playing the show cannot be missed."