Soul Sacrifice Celebrates the Music of Carlos Santana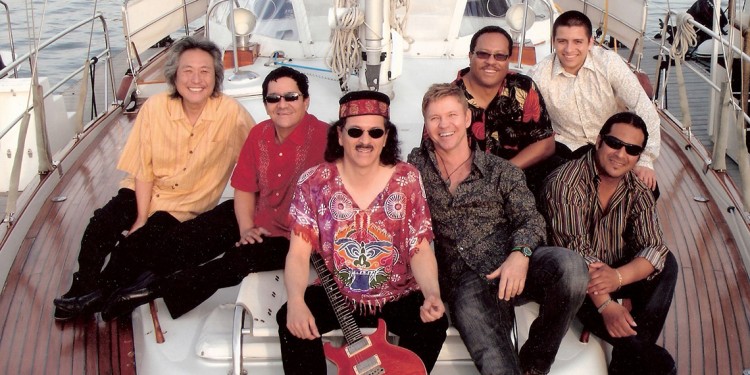 Carlos Santana has epitomized Latin rock music for decades; releasing two dozen albums and winning countless awards, including ten Grammys, throughout his impressive career. He is a music industry icon and it's understandable that others in the business might be interested in playing homage to the legendary guitarist.
"I have always loved Santana's music and when more tribute bands began to appear in the late 1990's, musician friends said I should do a Santana tribute since I look so much like him," Larry Rousseve, front man for the Santana tribute band Soul Sacrifice said during a recent interview. "With the help of those friends, I started Soul Sacrifice in 1999.We have been performing ever since and it has been a lot of fun."
Before forming Soul Sacrifice in the late nineties, classically trained musician Rousseve regularly performed in a number of genres including rock, pop, Latin, classical, flamenco and country. Because of his resemblance to the band's namesake, Rousseve decided to go ahead with the tribute and began searching for musicians to round out his vision.
Together with Rousseve and Rhodes, Soul Sacrifice currently includes Mark Wilson (vocals), Carlos Arias (percussion and vocals), Dan Tai Lopez (percussion), Nat Scott (drums, vocals) and Stu Simone (keyboards).
Unlike other musical tributes to bands such as the Beatles or the Rolling Stones, Soul Sacrifice does not necessarily play the roles of the real members of Santana, with the exception of Rousseve, who represents Carlos himself. The band is more of a tribute in the true sense of the word.
"This is not that kind of tribute, where each member is a personality and the band recreates that experience," Bassist Ed Rhodes said. "We are not characters. Our tribute is to the music."
"It's a re-creation of the spirit and experience of a Santana show," Rousseve added.
When they take at the stage at the Old Town Temecula Community Theater this Thursday night, Soul Sacrifice brings with them the music that so passionately inspires them.
"The music of Santana represents a unique contribution to popular music and our culture," Rhodes said. "There is no other blend of styles and genres of music like this. For over forty years, Carlos and his musical partners have created an amazing catalog of songs celebrating the spirit and passion of life that remains timeless."
For the Temecula show, the members of Soul Sacrifice hope to remind their audience of good times they may have spent listening to Santana's many hits.
"This is a celebration of the music," Rhodes said. "We'll perform songs from every era from the sixties to the present. For those who remember these songs, hopefully it will bring back pleasant memories and allow them to enjoy and appreciate the music all over again. For those who might be new to the music of Santana, hopefully you will enjoy this new experience and continue to listen to more of this music."
Carlos Santana was the king of world music, before it was even designated a genre, and anyone attending Thursday's Soul Sacrifice: A Tribute to Santana will get a taste of what it may be like to see the man himself, live on stage.
"I would hope that our audience would walk away and tell their friends about the great time they had seeing Soul Sacrifice and how the music touched them and brought back happy memories," Rhodes said. "I hope we give them just a little piece of joy in a world that is sometimes not always that joyful of a place."