Sonic Escape Is More than Just an Instrumental Trio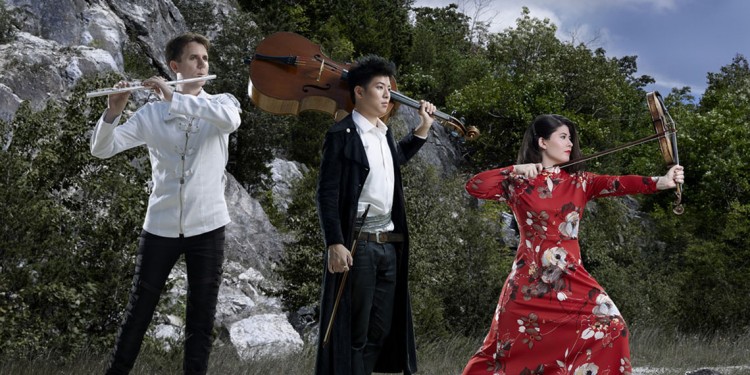 Violinist Maria Kaneko Millar, Flutist Shawn Wyckoff and Cellist Nan-Cheng Chen were all accomplished musicians in their own right, having played solo performances in some of the most highly regarded venues in the country including Carnegie Hall, the Kennedy Center and even the Library of Congress. It wasn't until this trio of Julliard graduates joined together to form Sonic Escape that something truly unique was born.
While only playing three instruments, if you close your eyes during Sonic Escape's "The Music Makers" concert, you may be convinced you are listening to a much larger group.
"Through the course of the evening, we play music from around the world that transforms our instruments – the flute, violin and cello – to sound like drums, mandolins, whistles and fog horns," Wyckoff said. "This show is definitely a wonderful introduction for those a bit hesitant about instrumental music."
Sonic Escape will use their incredible talents to lead the audience through a virtual history lesson in music with songs in various genres including folk, classical, bluegrass and even sea shanties. The members of the group will not only play for the audience's enjoyment, but also strive to make them an integral part of the show.
"Our goal is to have a great time with the audience, which means sharing the stories behind the music, taking questions and even some participation, if the audience is up for it," Wyckoff said. "Our show has lots of energy, humor and passion."
Since their inception, Sonic Escape has performed in a combined 22 states and Canadian provinces and won numerous awards including two of the Canada Council for the Arts Composition Grants, a Puffin Foundation Award and a Chamber Music America Residency Grant. They have delighted audiences at concerts and music festivals all over the country, but look forward to their return to the West Coast when "Music Makers" comes to the Old Town Temecula Community Theater this weekend.
"We have only performed in California a few times and, because of the warmth, hospitality, and love of music we experienced we're super excited to be returning," Wyckoff said. "We really look forward to sharing what we do with your community."