Move Over Bo and Luke: The Ooks of Hazzard are Coming to Temecula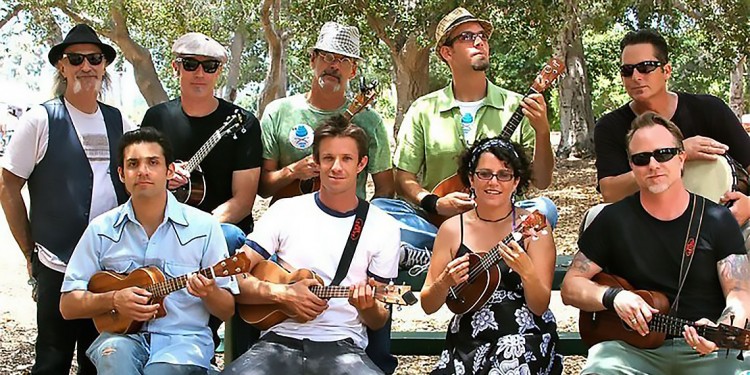 When I say the word "ukulele," what comes to your mind? Perhaps you imagine a large Polynesian guy on a hammock, strumming the strings under a palm tree at sunset? Well, the ukulele has come a long way, baby, and you can see exactly how far when The Ooks of Hazzard come to the Old Town Temecula Community Theater this Friday night.
The Ooks of Hazzard were formed in March 2010, when founding members Charlie Diaz, Patrick Hildebrand and Ed Marshall first performed together at a local open-mic session in Venice Beach. Gathering other local musicians, the group recorded a live video cover of psychedelic rock duo MGMT's single,"Kids," the following month. The video went viral and The Ooks of Hazzard didn't look back.
The Ooks of Hazzard currently consists of five ukuleles, an accordion, drums and seven vocalists. Current members of the band include original founders Diaz (vocals, tenor uke), Hildebrand (vocals, tenor and baritone ukes) and Marshall (tenor uke) as well as Rick Torres (bass uke), Nick Deane (vocals, tenor uke), Sam Morrow (vocals, baritone uke), Matt Tecu (drums), Anthony Tiny Biuso (drums), Patrick Murphy (cajon) and "Mrs. Hobbs" (vocals, accordion).
Though a ukulele is commonly associated with the music of tropical locales, at an Ooks of Hazzard show, you won't be hearing any covers of Don Ho's "Tiny Bubbles." This is a new generation of ukulele music.
"The Ooks will perform songs not traditionally performed on ukuleles, ranging from rock country and techno, as well as a host of original material," Marshall said, during a recent interview.
According to Marshall, an Ooks of Hazzard show is the perfect musical outing for everyone in the family.
"Our audiences range from young kids, teens, young adults, moms, dads and grand folks," he said. "When people leave our shows, they always say that they had so much fun and they want to tell everyone about us."
Though they are ten different musicians with ten different musical backgrounds, Marshall and the rest of the Ooks of Hazzard are all united by their love for one unusual and fun instrument.
"The ukulele helps us all get there together to have fun playing and singing and we want to bring you all along with us," Marshall said. "Come and have a new musical experience with us. We are sure you will be glad you did."