Outlaw Country Super-group, The Highwaymen, (sort of) Return in Tribute Show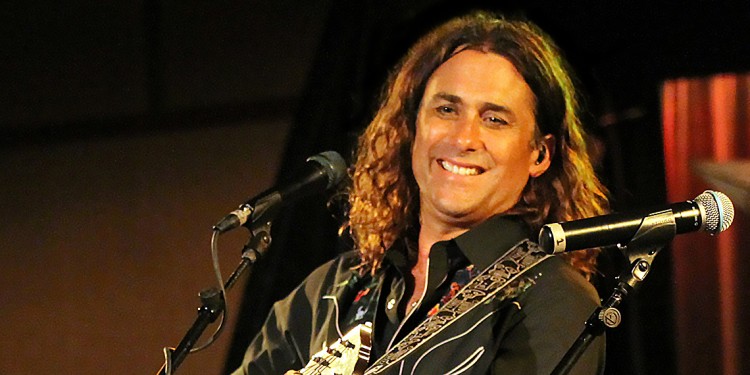 In 1985, four of the biggest names in country music, Willie Nelson, Johnny Cash, Waylon Jennings and Kris Kristofferson, joined forces to create one super-group. Calling themselves The Highwaymen, the pioneers of the subgenre called Outlaw Country delighted fans, off and on, for almost a decade. Now Inland Empire residents have a chance to relive the sounds of the epic quartet when vocalist, actor and mimic Tony Suraci stars in "Return of the Highwayman" at the Old Town Temecula Community Theater.
Having a long history with one of the members of the original group, a tribute to the Highwaymen was a natural progression for Suraci.
"I went out with Willie (Nelson)'s daughter Paula when I was 19 and, when we broke up and I moved back home to Fallbrook, I got an audition at Texas Lil's in Old Town Temecula," Suraci said. "They gave me the job and informed me that I had to perform for five hours a night so I had to learn some honky tonk material fast. I didn't know anything about country music so, with an old book of country hits of the seventies and eighties, I called my ex-girlfriend's mom, Willie's ex-wife Connie Nelson, for help deciding what to learn. We went through the song list and she told me what to learn. Several of them were Willie songs."
Suraci played several gigs following his stint at Texas Lil's, where he continued to include Willie Nelson's material in his set. It wasn't until a chance encounter with a member of a stage crew that the idea for "Return of the Highwayman" came about.
"We were setting up to play at Pala Casino and the tech employee said, 'You should put together some kind of tribute show because you get to play in the showroom and make more dough,'" Suraci said. "When we started to play, it hit me that I've been playing songs by Willie, Waylon, Johnny and Kris my whole career. They banded as The HighwayMEN. I shall become The HighwayMAN."
Already an actor with the ability to do impressions, Suraci began putting together a tribute of the famous country group, which meant performing their material in their style and with their voices.
"There was no second-thought about whether or not I should try to sound like Willie and eventually I discerned that Willie sang a lot of Kris Kristofferson stuff so I started to listen to him and fell deeply for his music," he said. "Then, I have a friend from Texas who went to one of my gigs and he told me that, if I'm going to sing Willie, I had to do 'Luckenbach, Texas' by Waylon [Jennings.] Finally, for Johnny [Cash], I learned 'Ring of Fire' early on and had been playing that for years, mostly because of knowing it from the Social Distortion cover. I didn't really know that I could sing like Johnny Cash until after I had the tribute idea."
The experiment proved successful and Suraci and his 9-piece all star band have been entertaining audiences all over the west coast. For the Temecula show, Suraci urges even those who aren't necessarily fans of country music to check out the unique musical tribute.
"We get people who say they don't like country music and absolutely love our show," Suraci said. "Keep in mind that our show features the best of the Outlaw Country movement made famous by these original four dudes. They rejected the traditional Nashville-style country music and created their own flavor. So come out and experience Temecula's homegrown show!"