Musical Based On Junie B. Jones Book Series On Stage in Old Town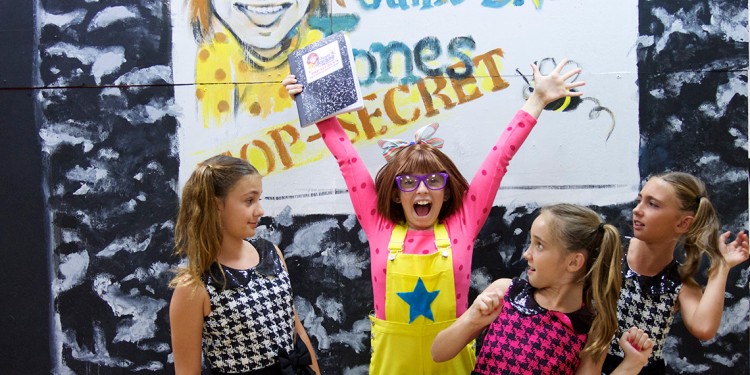 First published by Random House in 1992, the Junie B. Jones children's book series illustrates the challenges faced when navigating the harrowing halls of elementary school. A new musical brings author Barbara Park's beloved characters to life in "Junie B. Jones: The Musical," at the Old Town Temecula Community Theater.
"All the favorite characters from the Junie books are here; 'Tattletale' May, Sheldon Potts, Herbert, Lucille, Camille & Chenille, Lennie, Jose, That Grace and more; all played by youngsters ages eight to thirteen," Jillian Stones, Artistic Director for the Temecula Performing Arts Company said. "Each story is from Junie's first grade year. The show offers entertaining vignettes about all the troubles and hurdles of first grade, such as making new friends, trials of lunchtime, getting glasses, show and tell, the big Kickball tournament and more."
The Temecula Performing Arts Company is a non-profit organization, staging performances throughout the year featuring adults as well as children in the community. Having just been released for licensing, their production of "Junie B. Jones: the Musical" is the first of this particular show on the West Coast.
Stones chose to double-cast the title role of Junie and found two of the valley's best young talents to fill the shoes of such an iconic character of contemporary children's literature.
"The role of Junie B. Jones is played by 10-year-old Naomi Morales of Murrieta and 11-year-old Katie Herron of Temecula," Stones said. "Both of these girls are engaging, with good vocal and dance skills and they make the familiar character of Junie B. Jones come to life."
The cast also includes adult actors including Joey Mercado as Mrs. Gutzman, the cafeteria lady who is known for her fabulous cookies, Merry Fuston as Mother, Noah Green as Daddy, Christopher Vecchione as Mr. Scary and Thomas Morales as Mr. Woo.
For Stones and her choreographer, Caitlin Vecchione, working with a combination of adult and child actors is a lot of fun but each age group comes with their own unique challenges.
"I think the kids are just like sponges. They just soak up the music and dance and they have so much energy," she said. "I find that adults, if they haven't had dance training in the past, tend to have a little mental block on whether or not they can do it. But the honest to goodness truth is everyone can learn if you just keep your mind open."
"Junie B. Jones: the Musical" is performed on selected dates and times from November 7th through November 16th. Saturday and Sunday matinee performances include cast meet-and-greets and photo opportunities after the shows.
Though the new musical is based on chapter books for young elementary-schoolers, seeing the show is an experience recommended for all ages.
"Children, parents, and seniors will all enjoy the antics of Junie B. and her pals," Stones said. "We have a wonderful cast and the show is full of bright, catchy, tuneful songs. If you have not had a chance to visit the Old Town Temecula Community Theater yet, this is a great way to start and to introduce your family to live theater."