The Modernaires Bring Big Band Sound to Old Town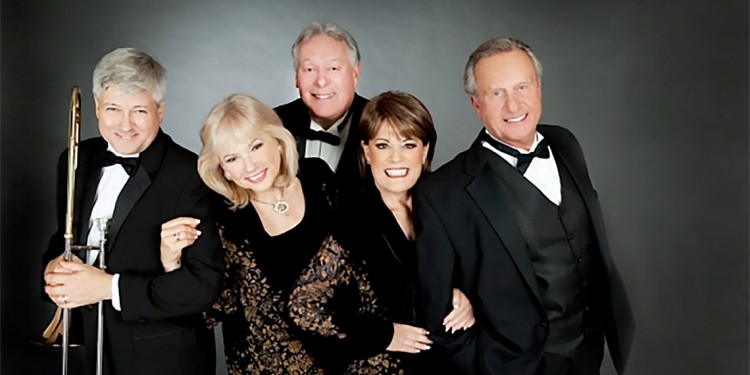 For a group who's been around almost 80 years, these guys and gals look good!
Starting in 1935 in Buffalo, New York, The Modernaires, or The Mods, as they were known, rose to success in the late thirties and early forties, singing with the legendary Glenn Miller Band on such famous recordings as "Moonlight Cocktail," and "Chattanooga Choo Choo."
After being discovered by Miller, The Modernaires went on to travel and perform all over the world several times and were even inducted into the Vocal Group Hall of Fame in Sharon, Pennsylvania in 1999.
Though there have been several different members of The Modernaires over the years, the iconic singing group still brings the classic style and sound of the Miller-esque big band to audiences today.
Julie Dickinson, daughter of The Modernaires Paula Kelly and Hal Dickinson, is second generation and the band's current lead vocalist. She is joined by current members Joe Croyle, Jim Stephens and Ginger Berglund.
When they come to the Old Town Temecula Community Theater this Sunday, the are excited to share their favorite classic tunes from musical history.
"We are so looking forward to our show in Temecula," Dickinson said. "We will bring a high energy performance with rich harmonies, for which The Modernaires have been known for more than 78 years now. We will be singing the forties oldies, which started with the Glenn Miller Orchestra, fifties, sixties through today, with a couple of brand new original tunes. To coin a phrase – old, new, borrowed and blue."
For Dickinson, the music they perform is even more relevant today than when it originally debuted.
"Today's music is so studio-generated that most folks are disappointed to see live concerts," she said. "Our music is timeless and will remain so. People love to dance, and we bring all of the old memories back to the older set and make new music-lovers out of the young. You just can't beat good music and singing."
As part of the Old Town Temecula Community Theater's Big Band Series, The Modernaires show is just another great example of the stellar entertainment the theater staff and resident performing arts groups bring to the Inland Empire every year, and Dickinson is sure it is a show not to be missed.
"We want our audience to come away with complete joy," Dickinson said. "We will make new memories for those who have never heard us. You will want to tell your friends about the best concert you've seen in your life. We dare you to sit still and not tap your feet, maybe shed a tear or two, and be completely entertained."