California Chamber Orchestra Opens Season with Beethoven Triple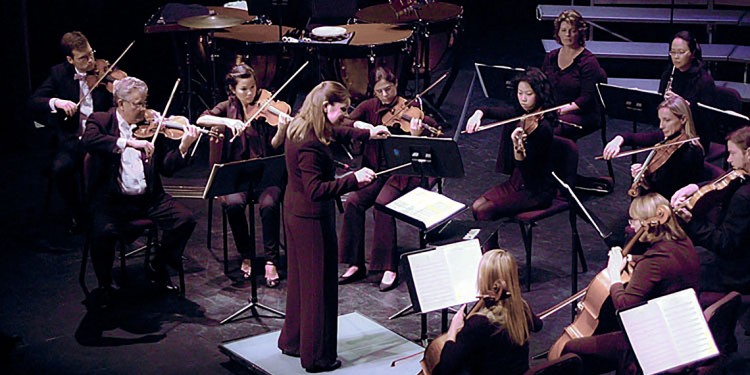 For such a small and close knit community, the Inland Empire offers unprecedented opportunities for cultural enrichment, including the one-of-a-kind artistic gem, the California Chamber Orchestra.
"The California Chamber Orchestra is celebrating its 10th anniversary this season," Dana Zimbric, Chamber Artistic Director and Conductor said. "We are taking this special year to celebrate some of the great composers and many outstanding guest artists."
Ranging from fifteen to thirty musicians, depending on the needs of the concert, the California Chamber Orchestra provides big-city caliber performances close to home.
For the premiere of this landmark season, the Chamber presents a dedication to the work of the most celebrated composer in history with Beethoven Triple, on stage at the Old Town Temecula Community Theater this weekend.
"Beethoven's music is a wonderful mix of emotion and intellect," Zimbric said. "During his life, he pushed the boundaries of classical music; expanding nearly everything from musical form to the size of the orchestra.  His music is loved by many, two hundred years after it was written, and proves to be as challenging today as it was then."
Zimbric carefully selected a trio of compositions to emphasize the range of Beethoven's work.
"The Beethoven Triple concert includes three pieces by Ludwig van Beethoven; His Triple Concerto, for orchestra with solo violin, solo cello, and solo piano; Grosse Fugue, arranged from one of his late string quartets for orchestral strings; and Symphony No. 8," Zimbric said. "Each work on the concert was selected to highlight a characteristic of Beethoven's life and/or compositional personality."
Keeping with the theme of three, the Chamber's special guests for the Beethoven Triple concert will be the San Diego State resident Neave Trio, which includes Violinist Anna William, Cellist Mikhail Veselov and Pianist Toni James.
For Zimbric, the California Chamber Orchestra's Beethoven Triple concert is the perfect way to kick off a season full of beautiful music and she hopes her friends and neighbors take advantage of the chance to hear it.
"I want our audience to leave the concert with a better appreciation of the breadth and depth of Beethoven as a composer and person," Zimbric said. "California Chamber Orchestra concerts are modern, smart, interesting, and moving. How can music written by a composer 200 years ago be any of those things?  Come see us and find out."