California Chamber Orchestra Celebrates Copland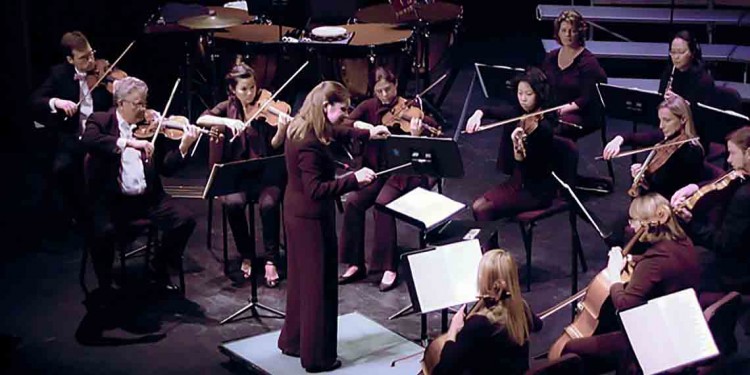 A
aron Copland was one of the most well-known composers of the 20th century and, as a tribute to his life and works, the California Chamber Orchestra, now in its 10th season, presents a "Copland Celebration" on Saturday, March 14th at the Murrieta United Methodist Church.
Under the direction of Artistic Director and Conductor, Dana Zimbric, the California Chamber Orchestra prides itself on bringing the highest caliber of classical music to the Inland Empire and, in that pursuit, they routinely invite talented musicians to join them. For the Copland performance, the Chamber will be joined by two guest vocalists, tenor Robert MacNeil and soprano Lisa Eden.
An accomplished concert artist, MacNeil has been a soloist in more than sixty performances of Handel's Messiah. He has soloed with the Mormon Tabernacle Choir, at the Sydney, Australia Choral Festival, and with the Central Union Philharmonic in Beijing. He made his Carnegie Hall solo debut in Britten's The World of the Spirit.
Soprano Eden has appeared nationally and internationally as a soloist and in recital at some of the most prestigious venues in the world, including the Dorothy Chandler Pavilion, the Kennedy Center, the Cosmos Club, Strathmore Mansion, the National Cathedral, and St. Patrick's Cathedral.
The program for the "Copland Celebration" will include The Tender Land: Suite, featuring MacNeil and Eden, and Appalachian Spring; commemorating the 75th anniversary of Copland's Pulitzer Prize for the latter work.
For Zimbric, the Chamber's "Copland Celebration" is a perfect introduction to classical music for even the youngest of listeners.
"Copland's music is both accessible for audiences as well as challenging for musicians, which makes his music a great choice for audience members of many ages and demographics," she said. "I think kids will particularly enjoy his Old American Songs which will feature our two amazing guest artists."
Performances by the California Chamber Orchestra are some of those rare cultural opportunities that we are lucky to have in our community; as the symphony is just as skilled as those in much larger cities. Attending the Chamber's "Copland Celebration" is not only a way to expose your children to a world of classical music played live by a full symphony, attending March 14th performance is also an opportunity to support a local artistic treasure to secure its existence for many musical seasons to come.
"The California Chamber Orchestra is a musical jewel in the crown of the Temecula/Murrieta area arts scene," Zimbric said. "Come hear what we do and delight in the art of great music. You won't regret it and it only takes 15 minutes to drive home!"