Feeling Lucky? Killarney's Celebrates St. Patrick's Day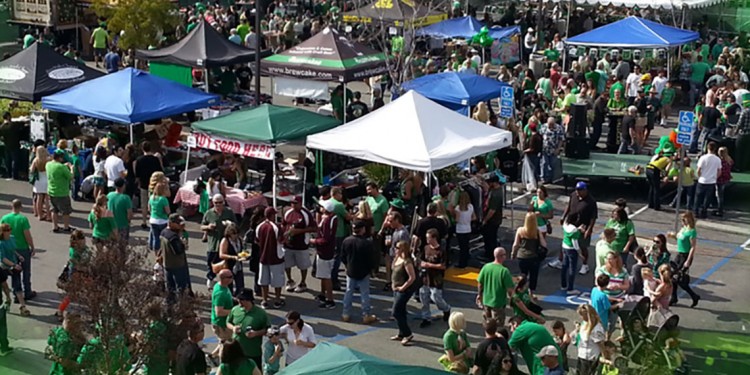 T
he Inland Empire is about to get lucky because this year marks Killarney's Irish Pub & Grill's tenth year in Temecula and they are commemorating the occasion with five days of Celtic craziness!
The green gatherings begin on Friday night, March 13th, with Killarney's "Kick Off Party," featuring live music by Hoist the Colors, playing a mix of funk, bluegrass and rock as well as traditional Irish tunes.
On Saturday, March 14th, those who like to wear their green on the greens can participate in the "Irish Golf Kilt Klassic," then bring it inside for an after-party hosted by Killarney's. For information on the tournament or to sign up to play, email Brian Kavanagh at bpkbri5555@aol.com. Spaces are currently still available.
Top o' the morning to you! For a blarney good brunch with brews, Sunday from 9:00 am to noon will be Killarney's "Keg N Eggs," with all you can eat and drink, featuring Ironside beers and entertainment provided by the Limerick Rakes.
Monday is St. Patrick's Eve and Killarney's will be offering the best way to pre-party, with $4 Irish pints all day (Guinness, Smithwick's, Harp and Killarney's 10th Anniversary Irish Red Ale) as well as special prices on Irish food favorites like corn beef and cabbage, shepherd's pie and Guinness stew.
On Tuesday, March 17th, the green beer will be flowing when Killarney's pulls out all the stops with the biggest bash of the decade – the 10th Annual St. Patrick's Day Parking Lot Party.
Starting at 10:00 am, this year's party will be bigger and better than ever with the Clauddagh Irish Dancers, roller derby girls, bag pipers, motocross jumpers, the Jäger girls and the Guinness crew, vendors and activities to delight even the littlest leprechauns.
"We love the kids," Denise Munson of Killarney's said. "They will love the face painting, Irish dancers, pipers and just having fun wearing green and dancing; the kids always have a blast. But at about 9:00 pm it starts to get a little more adult."
The dance party won't stop because live music will be on stage from noon into the night with the California Celts from noon to 5:00 pm and the Get Down Party Band from 6:00 pm until close.
There is no cover charge for the parking lot party before noon and its $10 after noon and $20 after 4:00 pm. Food and drinks will be available inside the restaurant as well as in the parking lot.
Bring some chairs, relax and enjoy the entertainment because this year's party is Killarney's way of showing their appreciation for ten great years.
"We made it! Ten years and going strong," Munson said. "We couldn't do it without the wonderful regulars we have had for the past ten years and we look forward to another ten!"
So, throw on your favorite green t-shirt, grab your lucky charms and follow the rainbow to Killarney's because the 10th Anniversary St. Patrick's Day Parking Lot Festival is going to be a real pot of gold!