Catch a Wave Because the Beach Boys are Still Sitting on Top of the World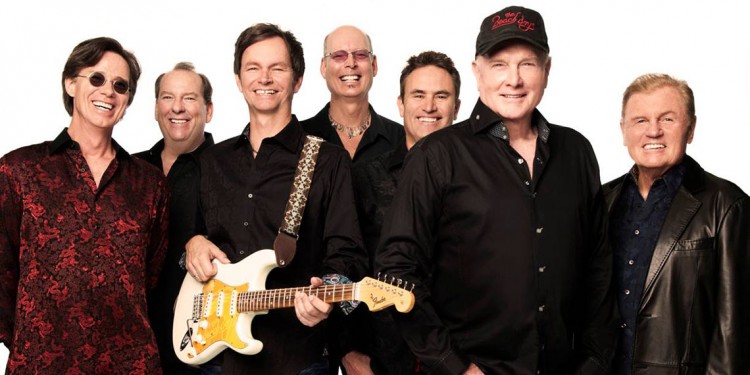 On December 31st, 1961, at the Long Beach Municipal Auditorium, five young men from Southern California performed their first paying gig; a memorial concert and dance show honoring the late Ritchie Valens. The group, comprised of brothers Carl, Brian and Dennis Wilson, their longtime friend Al Jardin and cousin Mike Love, were being promoted for the first time on radio and in print as The Beach Boys, an up-and-coming opener for much larger acts at that time: The Remingtons and Ike Turner and the Kings of Rhythm. They played only three songs and the crowd went wild.
Exactly 53 years to the day later, the Beach Boys will once again take the New Year's Eve stage at Pechanga Resort and Casino in Temecula but this time, instead of freshly-minted newcomers, they are music icons; rock and roll royalty with a storied career that can only be described as legendary.
Though, in the past five decades, the members of the Beach Boys have come and gone, some by choice and others by tragedy, one constant has remained, Rock and Roll Hall of Fame Member, Mike Love. I recently had the tremendous honor of speaking with Love about the band's unparalleled success, his memories of the past, and what we can hope to look forward to in the future of a band known world-wide for creating the "California sound."
I began by telling Love a personal story about the influence his music has had on my own family. Recently I watched as my 67-year-old father frantically dialed the Pechanga box office for tickets to the Temecula show; watching the clock for exactly the moment they went on sale as if he was a teenage girl trying to see One Direction. Love laughed at my anecdote, relating my experience to the whole reason he is still touring after all these years.
"The Beach Boys started at family get-togethers, at Christmases, birthday parties and barbeques and so music has always been an enormous reality in our lives," Love said. "People say that music is second nature to us, but I think it's sort of first nature. Music has been a reality in our lives since before we can remember and so, for us to be able to maintain the type of recognition we have and the success in the music industry and that we are still able to do our songs and attract an audience, it is such a blessing and I'm very appreciative of guys like your dad, dialing for tickets, because it's guys and gals like him that really keeps us going. It's just an amazing thing."
The escapism of classic California surf culture illustrated in the music of the Beach Boys not only still has a hold on the band's original fan-base of the 1960's but has gained legions of followers from all the generations since the band's inception. Love recalls a recent concert in San Diego that demonstrates their multi-generational appeal.
"There was this little nine-year-old girl in a Beach Boys shirt and a Beach Boys cap and I pulled her up on stage with us during 'Barbara Ann.' Then I look to my left at Bruce Johnston's mic and there's a ninety-year-old lady singing along. So, it was fans from nine to ninety on stage, singing with us."
Though their fans seem to respond to the subject matter of surfer girls, hot rods and school spirit, Love attributes most of the band's success to their simple passion for the art of making music.
"The essential ingredient of our music is love and our love of creating these harmonies together," he said. "When we got together, it had nothing to do with being rich or famous or any of that. It had to do with just getting together and creating those harmonies and the resonance of those notes together and the blend. What has always distinguished us from the other groups is the refined, beautiful warmth of the harmonies and that comes purely from the love of the music."
Maybe fame and fortune wasn't their ultimate goal, but there is no doubt of the Beach Boy's stellar achievements; frequently referred to as the best American vocal group of all time. With numerous awards and recognitions, the Beach Boys even hold a Guinness World Record for the largest concert audience. Considering their infinite resume of accomplishments, it's difficult to imagine the Beach Boys ever having been manipulated by an industry all-too-frequently described as one that tears down artists for the sake of big business.
"When you are young, you are naive about the music business and the way the business is run and you get taken advantage of," Love said. "We were seriously taken advantage of, in a lot of ways, and that's unfortunate but that's just the nature of the business. So, the one thing I would have done differently is be more knowledgeable because maybe I would have avoided some of the pitfalls of the industry."
The members of the Beach Boys would soon learn to navigate the murky waters of the music industry and produce such megahits as "Surfer Girl," "Help Me Rhonda," "God Only Knows," and "Wouldn't It Be Nice;" all classics from rock and roll's youth. Though they seem to embody an idealized notion of the innocence of the early 1960's, it's surprising to learn that the Beach Boy's biggest hit and all-time best-selling single, "Kokomo," was released two decades later; reaching number one on a Billboard chart filled with names like Michael Jackson, Duran Duran and Tiffany.
"We were asked to do a song for the movie 'Cocktail,' and we did and the director of the movie said that it was our best song since 'Good Vibrations.'" Love said. "We had no real frame of reference and I had no idea it would be as successful as it would be. So, that song came out in 1988 and went to number one, twenty-two years after 'Good Vibrations' went to number one in 1966. So, it's almost mind-blowing to contemplate that we were able to have hit records in the sixties and the seventies and the eighties. It's mind-blowing. No, humbling is actually what it is, humbling and a blessing."
Though appearing on the television sitcom "Full House" was not Love's greatest achievement (I jokingly asked), their performance of "Kokomo," on the popular series introduced Love and the boys to now close friend, and drummer for the upcoming Pechanga appearance, John Stamos.
"We always look forward to [Stamos] coming around," Love said. "He's a great drummer and, for the show, we'll most likely back him up on a song, probably 'Forever,' which we did the backup vocals for the rendition he did on 'Full House,' when Uncle Jesse got married. Obviously the crowd loves him. He's a great entertainer and a great guy and we have a lot of fun whenever he comes out."
While still touring with old friends as well as new collaborators, the one-time teenagers brought down by the industry are now revered and respected for their legacy. These days Love and his band mates may not be catching too many waves and probably aren't seen too often cruising Route 66 in their little Deuce Coupe, but the themes and the feelings evoked through their timeless hits keep those memories alive and well.
"In commercials, there's a term called 'heightened reality,' and in songs like 'Surfing USA,' 'Catch a Wave' and 'Surfing Safari,' those songs about surfing are heightened reality but, there is a reality there upon which the songs are based," Love said. "When we do 'Be True to Your School,' whether you are still of school age or looking back forty years ago, you can still relate to what that song is about. I think that's the appeal of our songs. They will live forever because they are recreated every night on stage and they are always with us."