Tribute to Barbra Streisand Featuring Sharon Owens Takes the Stage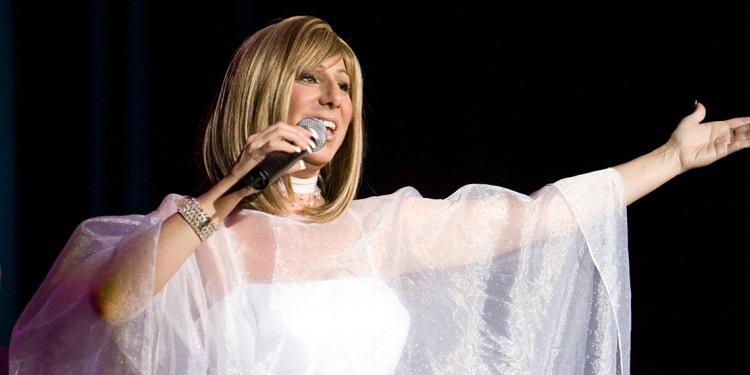 When Sharon Owens was a singer for a nightly cabaret in Los Angeles, she channeled one of the greatest performers of all time, and it was simply to avoid an on stage laughing jag.
"The producer was a good friend of mine and the next show I was scripted to sing 'He Touched Me,'" Owens said during a recent interview. "They showed me the costume, this beautiful gown, and I was to sing this pretty song as one of the ballads. I said 'Seriously? With a straight face?' I asked if I could spoof Babs and the producer said he'd give me one night and, if it bombs, then back to his way."
That night, Owens made her way to Hollywood Boulevard, where she shopped for the perfect A-line blond wig. As soon as she tried it on, Owens recalls how a room full of shoppers was stunned silent.
"Everyone in the store gasped," she said. "They paraded me all over the store saying 'Can you believe how much she looks like the real thing?' I honestly didn't see it. Just because I have a big nose, does that mean I look like Barbra Streisand?"
That "spoof," as Owens' puts it, brought down the house that night and ended up running at that cabaret for four months. Upon realizing that she had a real talent for mimicking the music of the legendary singer, Owens began studying Streisand's Brooklyn accent, vocal mannerisms and iconic fashion sense. Regardless of how similar her impersonation has become, Owens is insistent that nobody can ever come close to the real thing.
"No one can reproduce her sound," she said. "Many say to me, 'You sound just like her.' These days I just I just smile and say thank you, but what I want to say is, 'Are you crazy?' People do hear what they want to hear. And I do have a lot of practice trying."
There is only one Barbra Streisand, and Owens feels honored to be positively compared to someone who has made such a lasting impression on the world.
"I'm so happy to be able to tribute one of the most iconic woman singers, actresses and producers of our century," she said. "But what I think has made Babs such an icon is her voice and her look and her perseverance. She never gave up. Just like all of us, she was told no, probably a lot more than we realize. She put on her blinders and showed people what she could do. And then didn't fail."
Inland Empire residents will have a chance to see Owens' homage for themselves when "A Tribute to Barbra Streisand Featuring Sharon Owens," comes to Temecula this Saturday, September 27th. Performing with the 17-piece Coastal Cities Jazz Band, Owens will sing a wide selection of Streisand's biggest hits from her epic career.
"The audience will get a little sixties with 'Funny Girl,' seventies disco and other famous seventies songs like 'Evergreen,' eighties Broadways songs, and my favorite, 'Yentl.'" Owens said. "The music is wonderful but no politics, I promise. I'm not a political person at all. I think deficit spending is what I owe on my credit card."
Owens hopes that her Temecula performance will leave a lasting impression on her audience and she hopes they are inspired and entertained enough to stick around and say hello.
"I always stay after the show to meet and take pictures," Owens said. "It's a walk down memory lane for all of us, during the show, and I want the audience to just leave feeling happy, a little sad, but in a good way, and maybe go home and look through their old photo albums and remember their 'Memories'."