Crush & Brew Presents Local Artists and Musicians Spotlight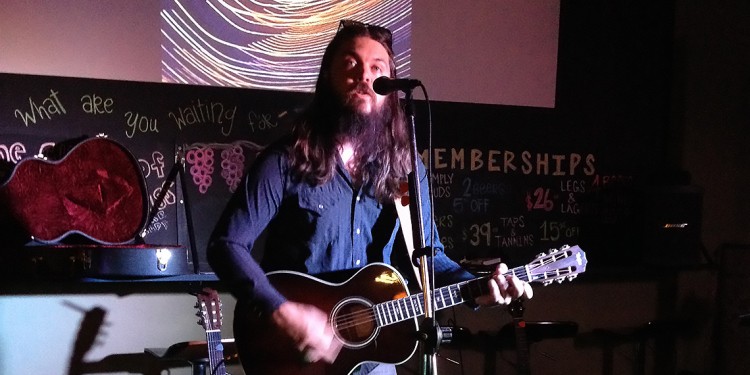 On the last Tuesday of every month, popular Old Town haunt, Crush & Brew, hosts a Craft Songwriter's Showcase where local and regional songwriters and recording artists can come together and share their latest work, all while sampling some of the area's best wines and microbrews.
"It's all about giving performers, writers, photographers and painters a place to showcase while collaborating and networking with other passionate artists," Joel Reese, showcase host and performer said. "It's a very creative, loving and energizing vibe, almost like an artist's camp."
Every month, a handful of artists from many genres, including the fine arts, photography and music are welcomed to the venue to perform for patrons as well as their creative peers. With a spotlight on one local songwriter each month, the philosophy of the event matches that of the venue itself, highlighting the talents of those in the community.
"Crush & Brew is an artisan restaurant and vibrant tasting bar focused solely on featuring locally crafted beer and wine," Reese said. "We proudly pay homage to the craft of crushing and brewing the best in locally produced beer and wine that Temecula and the surrounding areas have to offer. Since Crush & Brew showcases local craft winemakers and brewmasters, we wanted to showcase local, original artists."
The line-up for the Craft Songwriter's Showcase changes every month and this month's installment will feature music by Johnny Ray Price, David Mills, Gary Owen, Terra Shelton, Malissa Lauren Miller and Jerod Dulaney. Select pieces from artists Julian Ortiz and Tamra Gerard will also be on display.
Slides from the artists and photographers will be projected in correlation with the musical performances to enhance the imaginative atmosphere of the event.
The Craft Songwriter's Showcase begins at 7:00 pm but arrive early because seats are limited. Come and enjoy all styles of music and artwork from some of the valley's best and brightest future stars.
"Temecula Valley's best original artists are featured with a few newcomers making appearance as well," Reese said. "Hear the stories-behind-the-songs, sip a locally crafted beverage and soak up some creativity."