Alpacas Get Amorous This Valentine's Day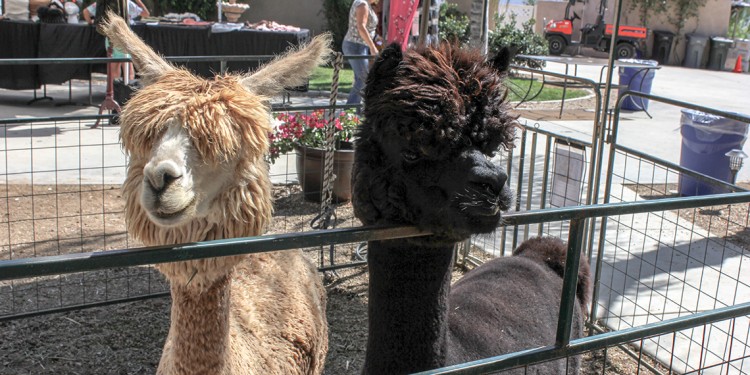 Looking for an unorthodox, and really cute and fuzzy, way to celebrate Valentine's Day this year? The Alpaca Hacienda is opening their doors on the most romantic day of the year to allow you and your sweetheart (or the whole family) a chance to show some love to your furry friends.
"We got a call from a young man who wanted to bring his girlfriend out on Valentine's Day to surprise her and I thought, if one person thought it would be fun, then there has to be more," Alpaca Hacienda co-owner Beth Osborne said. "The event is for Valentines of all ages – families, couples, whoever wants to come bring their special someone and spend some time among the alpacas."
Located in the heart of Temecula, the Alpaca Hacienda offers sales, agisting, breeding, group tours and an on-site store but isn't normally open to the public; making the Valentine's Day event even that much more unique and exciting. Though they have Open Ranch Day and Christmas season events annually, this is the first year they are offering the community a chance to spend February 14th with their cuddly cupids.
From 10:00 am until 2:00 pm, visitors to the Alpaca Hacienda's special Valentine's Day party can bring a picnic lunch and enjoy the beautiful views and rustic, manicured grounds with their loved ones, as well as enjoy lots of alpaca-themed fun. Tables and chairs will be available for your romantic V-Day lunch.
Each $12 ticket includes a personal meet and greet with the alpacas, a 4×6 photo and a complimentary glass of wine or other beverage. Visitors will also have the chance to pick up an alpaca souvenir for their Valentine, including hats, socks, scarves and even stuffed animals.
Space is limited so reservations are mandatory! To reserve your spot at the Alpaca Hacienda's Valentine's Day event, contact the ranch's Event Coordinator, Tina Mendoza at tinaK@thealpacahacienda.com.
Valentine's Day is meant to be spent with the ones you love, and Osborne and her staff promise a fun-filled afternoon for hearts of all ages.
"Come fall in love with alpacas at the Alpaca Hacienda's Valentine's Day event," Osborne said. "Enjoy a unique experience, hand-feeding our alpacas and taking in the commanding views of the Temecula Valley. Our llama might even sneak you a kiss!"