Art is All Around the City of Temecula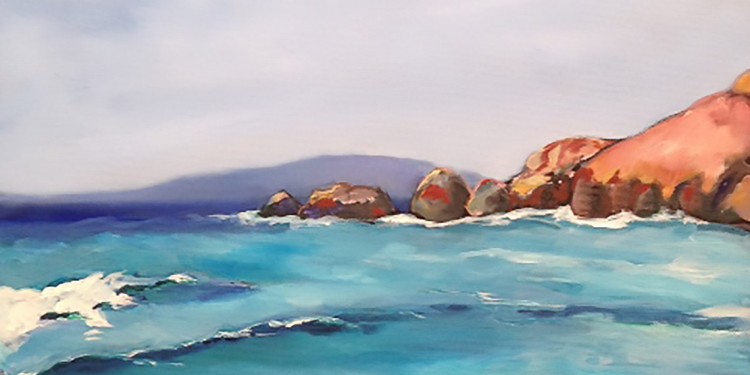 T
he City of Temecula is celebrated for bringing top-notch artistic opportunities to the members of the community and well as visitors and currently there are a number of city-sponsored art exhibitions available for viewing around town.
The Civic Center Gallery, located in the main lobby of the Temecula Civic Center, is currently hosting a photography exhibit featuring a collection of landscapes by retired firefighter – turned artist, Doug Bailey of Lightfinder Photography.
"It's about the light, always the light that first attracts my eye," Bailey said of his photography style. "Everything flows from finding that sweet light, and I have had the good fortune of finding more than my share of that pure, beautiful light."
Also at the Civic Center, in honor of the City of Temecula's 25th anniversary, the Temecula Textures Fiber Art Club presents their beautiful three-panel art quilt, in recognition of the city's silver celebration. The panels depict a pictorial evolution from the quaint cattle town of yesteryear to the scenic wine country and stately Civic Center, as it stands centrally located in the heart of Old Town Temecula.
Created by Project Coordinator Carol Niles, along with Carol Carpenter, Eileen Wintemute, Sharon Reese, Phyllis Binkley, Christina Smithberg, Muna Elias, Catherine Baltgalvis and Laura Bisagna, the anniversary quilt has been graciously donated by the club and is currently being shared with all their friends and neighbors in this great city.
The quilt and Bailey's photo landscapes will be on display during the Civic Center's normal business hours, Monday through Friday from 8:00 am to 5:00 pm.
The whimsical works of local artist and children's author, Lisa Owen-Lynch, will be on display at the Temecula Public Library. In addition to her children's book illustrations, Owen-Lynch's work expands to theater set design, award-winning chalk art and wine labels. The exhibit lasts through the month, with an artist meet-and-greet on February 21st from 2:00 to 4:00 pm.
Also throughout February, the City's "First Fridays" monthly art exhibits continue in Old Town with the works of oil and acrylic painter Sylvia Greenfield. Greenfield's work in landscape and still life will premiere at a reception at the Gallery at the Merc, inside the Old Town Temecula Community Theater complex, from 5:30 to 7:00 pm on Friday, February 6th. The artist herself will be on hand to meet the crowd and answer questions about her chosen paintings.
"What inspires me in deciding on a prospective painting," Greenfield said. "A surprising moment of seeing. An unexpected juxtaposition of light on form. Patterns of nature, the musical lapping of waves on rocks, the mesmerizing repetition of lily pads on ponds, the loveliness of hills, the serendipity of favorite objects arranged in a whimsical still-life."
Also on Friday night, beginning at 7:00 pm, art lovers and members of the community can attend the "Art Off the Walls," exhibit featuring several artists' works, including sculpture, pottery and jewelry, at the Truax Building, which is located at Second Street and Mercedes in Old Town Temecula. Both events will feature live music and light refreshments.
There is always art on display in Temecula and all you need to do is look around to enjoy the creativity and beauty all these exhibits add to our community.