Temecula Remembers Fallen Troops on Memorial Day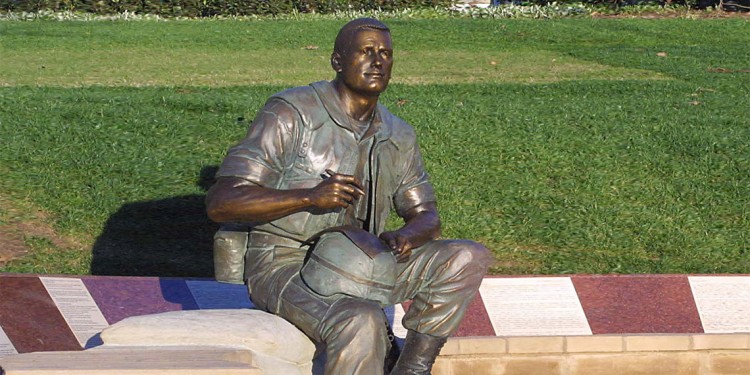 B
etween the family picnics and neighborhood barbeques, it's important to remember that Memorial Day is much more than a day off from work. The City of Temecula Community Services Department, along with the Knights of Columbus and the Veterans of Foreign Wars (VFW), are providing the perfect opportunity for Temecula Valley residents and their friends and families to pay tribute to the brave men and women of our armed forces who lost their lives in service.
Monday, May 25th will be a day full of Memorial Day activities, beginning with a ceremony next to the "Letters Home" veteran's memorial (statue pictured above created by artist Christopher Parnell) at the Temecula Duck Pond. From 8:30 to 9:30 am, attendees can pay tribute to our fallen troops with speeches from local dignitaries, as well as the Presentation of Colors and Pledge of Allegiance by the Temecula Valley Young Marines and the National Anthem performed by the Temecula Valley Master Chorale. The observance will continue at the Temecula Public Cemetery, 41911 C Street, at 10:00 am.
Memorial Day is not only about remembering and acknowledging those who died while protecting our country, but also to celebrate our freedom as Americans. The VFW Post 4089 invites the public to celebrate with them at a Memorial Day barbeque at their location, 28075 Diaz Road, beginning at 12:00 noon.
If you are unable to attend any of these Memorial Day events, please take a moment to remember those service men and women who lost their lives to protect our freedom. Although Memorial Day is to honor the fallen, all of us at What's Up? Temecula would still like to offer our sincerest thank you to active and former military and their families and we are forever grateful for the sacrifices you make for us every day. We think you should be saluted every day of the year.