Step Into History on the Old Town Temecula Walking Tour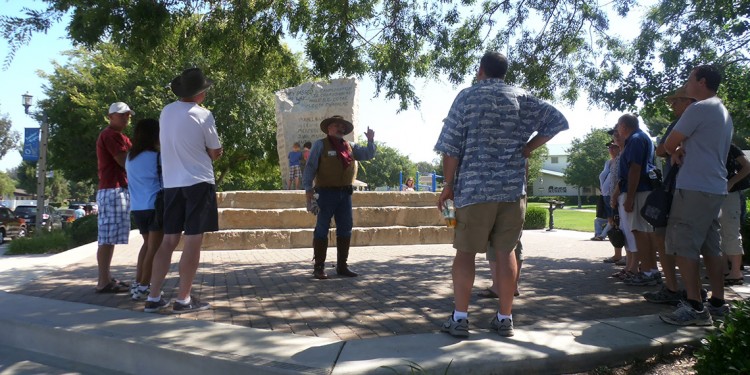 A version of this story was originally published on 10/10/2014. It has been updated to include information for 2015.
Just looking around the Temecula Valley and you can tell how rich in historical significance the area really is, but how well do you really know the heritage of our community?
If you have questions about Temecula or would just like to hear the stories about how the city came to be, the Temecula Valley Museum has the perfect way to learn about the town's history while getting a little exercise in the process, with their Walking Tour of Old Town every Saturday at 10:00 am through September 5th.
"Our tour is an important part of our mission to preserve the rich historical past of the Temecula Valley by providing educational and entertaining programs," Tracy Frick, Museum Services Manager for the City of Temecula said. "The tour helps bring the stories and characters of the valley to life."
Old Town Temecula is a one-of-a-kind enigma; one-part bustling downtown mecca full of clubs, trendy bars and bistros, and one-part living museum, where almost every corner houses some sort of historical building or other landmark. The Temecula Valley Museum's walking tour provides the perfect opportunity to immerse oneself in the history that is always right in front of us.
"The tour focuses on Old Town Temecula primarily, as that is where the largest concentration of historic buildings reside, but encompasses the history of the entire valley," Frick said. "Tour guests will learn about Native Americans and the true origins of the name Temecula, the Butterfield Overland Trail and the mission influence on the region. They will view the 'They Passed This Way Monument' and learn its meaning, see the Palomar Hotel and learn about its importance to early technical advances in the region, and see Hotel Temecula and learn of its connection to the Temecula Train Station, and much more."
Tour guides consist solely of volunteers, some school teachers, but others who are just enthusiastic about the history of the valley and the desire to share it with their neighbors. Saturday's tour will be conducted by experienced guide and museum docent, Dale Garcia (pictured.)
"We strive to make sure that all visitors leave our tour with an appreciation of those who came before and an understanding of the importance of Temecula's place in the development of not only our region, but of the state and the country as well," Frick said.
The Temecula Valley Museum's Walking Tour of Old Town is the perfect a way for the community to take steps right out of the pages of a history book and Frick and her colleagues are thrilled to have a part in preserving the city's heritage for years to come.
"Temecula's city slogan says it all; it's a place that appreciates its 'Old Traditions' while providing 'New Opportunities' to grow and thrive," Frick said. "Individually, we all are experiencing our own personal history as we go through life and it takes the perspective of time to be able to view our personal histories as a community story that will be appreciated by future generations. Temecula's commitment to community is evident in the way we celebrate and appreciate our past and in the way we come together in the present."