Skytrooper Musical Honors Veterans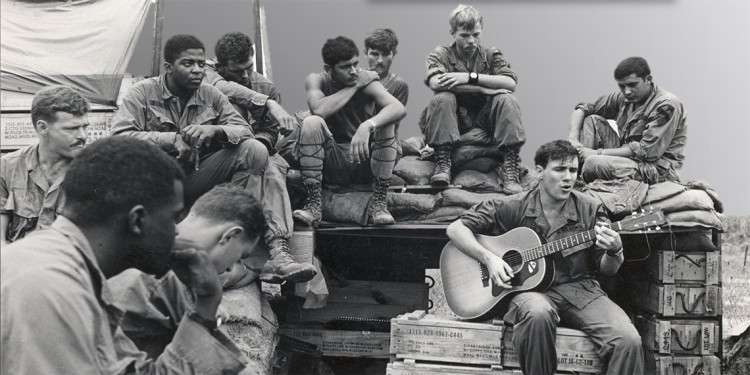 This Veteran's Day weekend, there is an exciting opportunity to not only honor our nation's heroes, but be entertained in the process, when the contemporary rock musical Skytrooper comes to the Rancho California RV Resort in Aguanga.
"Skytrooper (Impressions of a Skytrooper) is a musical performance featuring 12 songs that reflect the familiar experiences of combat soldiers serving in the Vietnam War, but many of the experiences reflected in the music can be attributed to those of any combat war Veteran," Co-Producer and Lead Vocalist Lisa Ellis said. "Skytrooper uses music and drama to bring about awareness of their collective sacrifice."
The songs for Skytrooper were written by Producer and Lead Vocalist, Bill Ellis; some written while he was serving in Vietnam as an infantryman with the 1st Air Cavalry Division during 1968-69.
"I was a musician and songwriter prior to being drafted in 1968 and the rock band I was with was on the verge of its first release with Liberty Records when I received my draft notice," he said. "While in Vietnam, I was an infantryman with the 1st Air Cavalry and, after several months, a service member discovered that I wrote and sang music. This eventually led to my trading in my M-16 rifle for a Gibson J-45 guitar and being sent out to firebases and other venues too dangerous for civilian entertainers to travel. I would hop on a helicopter and fly out to perform for the troops as they came in for rest, in order to provide comfort and boost morale."
As a Vietnam Veteran himself, Bill Ellis looks forward to sharing his experiences with his audience while paying tribute to other veterans as well as those currently serving in the armed forces.
"I was inspired by the men and women who are willing to put on a uniform and go and risk their lives for America, for freedom," he said. "I want their experience and sacrifice to be remembered."
The setting for Skytrooper was created to put the audience right on the front lines with Ellis and his fellow soldiers.
"The show stage is set to resemble a bunker, complete with sandbags, artillery boxes, camo netting and stage props," Lisa Ellis said. "Bill introduces the show as helicopters are heard overhead and the first song begins. He then weaves his personal stories throughout the music numbers, accompanied by a five-member band. Lighting, sound effects, a slide show presentation and theatrical drama enhance the performance, helping to create a realistic scene and the feeling for the audience that they are not just observers, but participants in the performance."
With the story told mostly through music, Lisa Ellis believes that anyone who has ever supported their country's servicemen and women can relate to Skytrooper in one way or another.
"The music of Skytrooper extends beyond just Vietnam," she said. "Anyone who has served in the military can understand "Boot Camp." Every wife, mother, father or girlfriend can relate to the homecoming of their loved one following an extended duty in "Home For Christmas." And combat soldiers serving during just about any war can understand the experience of heat and thirst so well detailed in "Grunt," the loneliness of missing home in "City Lights," or "Home," the surprise of a sudden "Firefight," or, at times, the dreadful experience of losing a buddy during a fierce firefight as poignantly told in "I Want to Live." The music of Skytrooper is dramatic, powerful and evocative, and appeals to the masses."
Not recommended for young children due to mature language and subject matter, Skytrooper provides audiences the perfect way to celebrate Veteran's Day through a completely immersive sensory musical experience.
"There is simply nothing else out there like Skytrooper," Lisa Ellis said. "The show is both educational and entertaining and can be healing to many. Be part of this experience. You will take something home with you that will stay with you for a long time."