Opa! Annual Greek Festival Comes to Old Town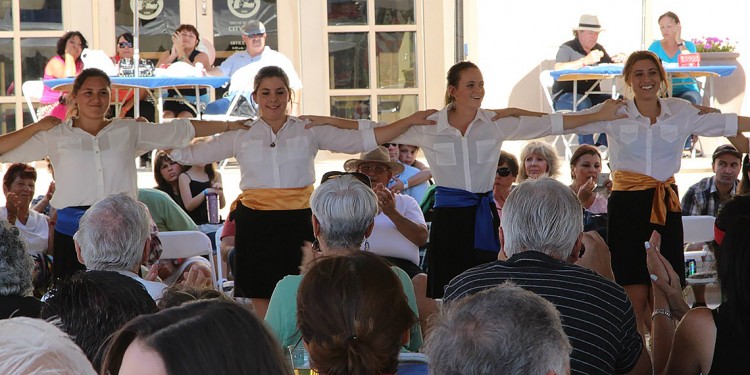 Go Greek this weekend as the St. Nicholas Greek Orthodox Church presents their annual Greek Festival in Old Town.
"Greek Festivals are widely known in Southern California for their variety of delicious foods and a very fun atmosphere," Leon Stavros of St. Nicholas said. "The City of Temecula has formally set aside October 2014 as Greek Food Festival Month. This is a special month in Temecula because of this weekend and it will fix your mood right up."
The festivities will be held in front of the beautiful Temecula Civic Center complex, this Saturday from 10:00 am to 9:00 pm and Sunday from 11:00 am to 8:00 pm. The festival promises two full days of Greek fun, food, entertainment and education.
Entertainment includes live Greek music from the bands 4 Greeks LA and Tatoolis and traditional folk dancers, including children, will be on hand to demonstrate their authentic and lively Greek choreography.
A favorite of visitors to Greek fetes is always the food and the Temecula Greek Festival definitely does not disappoint when it comes to culinary representations of their heritage.
"As far as the foods, where do I begin," Stavros said. "We'll have leg of lamb, mousaka, spanakopita, tiropita, pastichio, gyro, pork souvlaki, dolmathes, Greek salads and the most delicious, famous Greek pastries."
A selection of Greek wines, liquors and coffees will be available to wash down the rich international fare.
In addition to food and entertainment, the Greek Festival will include something for all ages. Imagine yourself shopping on a trip to the Greek Isles at the Mediterranean Marketplace while the kids enjoy a ton of awesome activities just for them.
"There's plenty to do for the whole family," Stavros said. "There is the Kid Zone with a petting zoo, pony rides, face painting, the extreme game trailer, moon bounce and more."
Admission to the Greek Festival is only $2 per person and kids 12 and under are free. Door prizes will be given out throughout the day so get there early and bring the whole family to enjoy a full day of international culture disguised as one big Greek celebration.
"Greek people know how to put on a party like no other," Stavros said. "They are very family-oriented and love music and dancing and good eats. You won't want to miss it."