Vincent Ingala Blends Smooth Jazz and R&B for a Uniquely Awesome Sound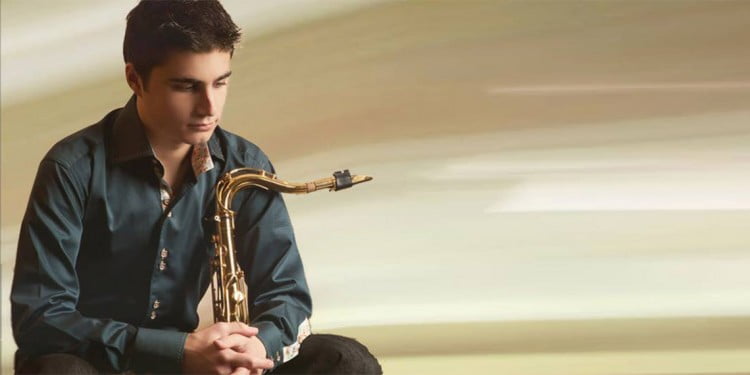 Vincent Ingala's music can be called a mixture of many genres and influences; an almost perfect illustration of the cliché "something for everyone."
"What I do would be classified as smooth jazz, but technically, if you really look into it, it's instrumental R&B music," Ingala said during a recent phone interview. "I bring a lot of different flavors into every show because I'm heavily influenced by a lot of stuff. I love fifties and sixties rock and roll, disco, funk, everything. It all comes out [in the performance] and there are so many different types of music in the show, even though it is more centered with R&B and the saxophone. I think it makes for a pretty cool variety."
Ingala, who plays multiple instruments but primarily saxophone, was just a teenager when he began his professional career and has since hit the ground running. Named Sirius XM's Breakout Performer of 2013 for his genre, Ingala has appeared at numerous music festivals including the Hyatt Regency Newport Beach Jazz Festival, Catalina Island Jazz Trax Festival and the Seabreeze Jazz Festival. He will be a featured artist on Royal Caribbean's sold out Dave Koz and Friends Alaskan cruise this September, and his most recent album, "Can't Stop Now," is currently in stores.
When he takes the stage as part of Thornton Winery's Champagne Jazz Series on August 24th, Ingala looks forward to pleasantly surprising those who may not be familiar with his signature sound.
"First you see a lot of blank faces, waiting to be entertained, because they don't know what to expect," he said. "But hopefully, as the night goes on, you see them start smiling more and bobbing up and down more. It's kind of cool to see their progression during the process of a show."
Joining Ingala on stage will be Dave Hooper (drums,) Ben White (bass,) Rick Marcel (guitar,) and Temecula resident, Rymand Entezari (keyboard.)
Though some may imagine a smooth jazz concert as mellow, serene and even borderline sleepy, Ingala's exuberant performances are anything but boring.
"At a live show, people watch and 'listen' with their eyes as well as their ears, so I think it's important to entertain people as well; really put on a show," he said. "There's a little bit of choreography and I'm very energetic up on stage and I love to get the audience involved. Interaction is key and I hope that people would say that I get the crowd going, bobbing up and down and dancing with me."
Ingala hopes his performance will impress one of his idols who he is lucky enough to be preceding on Sunday evening.
"Al Jarreau is a legend and fantastic and certainly a big influence on me so I'm looking forward to meeting him for the first time," Ingala said. "He's another guy who has crossed over and blended so many elements of jazz and R&B and made them fit perfectly together."
Coming from a large close-knit family, Ingala hasn't let the glitz and glamour of the entertainment industry cloud his good judgment and character.
"I'm inspired by people who are good people and who are clean and don't get into drugs and alcohol and have been able to maintain a normal lifestyle; people who have been able to rise above, in a tough business like the music business," Ingala said. "Those are the people I look up to. Those are idols and I aspire to be the same type of guy."
Even with a great deal of professional success at a very young age, Ingala finds a business school education to be his insurance policy in an unstable financial world filled with finicky consumers with wavering musical preferences.
"I'm in a position now where I'm getting different gigs and making a living at it, but if something happens beyond my control and I can no longer play music, then I'll hold a degree," he said. "I think it holds a lot of respect to have a college degree and it's just good to have a back up."
Ingala is a new resident of Southern California, having moved to Los Angeles this month, and he is thrilled to once again entertain his new neighbors to the South.
"This is my third time playing at Thornton Winery and every year we have a blast and the crowds are absolutely fantastic," Ingala said. "We have a great band full of some of the best musicians I know, who are also great friends of mine, and it's a beautiful venue. It's going to be a great day of music and dancing and wine and just the general love of life!"
Vincent Ingala (with Al Jarreau)
August 24th at 5pm
Thornton Winery