River North Dance Chicago Combines Athleticism with Accessibility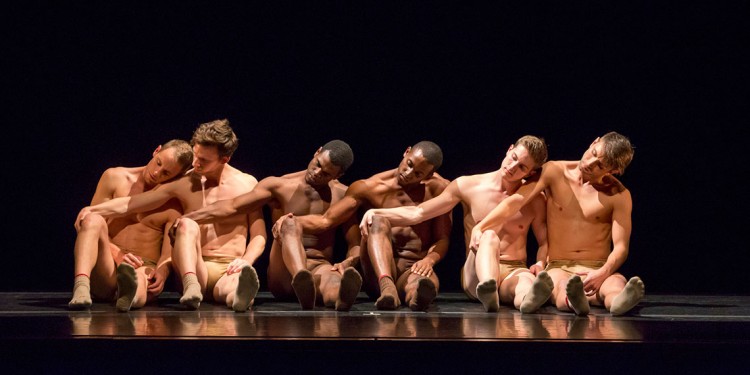 A
lthough River North Dance Chicago is world-renowned for their athleticism, creativity and modern technique, Artistic Director Frank Chaves wants everyone to feel comfortable attending their performances, regardless of any prior knowledge of the genre.
"We are known for being very accessible and very approachable," Chaves said in a recent phone interview. "You don't have to know dance to come to the show and you don't have to be afraid of not getting something. I always say that I want to make sure that people not only see River North but feel River North."
Founded in 1989, River North Dance Chicago combines the works of Chaves with pieces from celebrated choreographers from all over the world; bringing audiences a show that is uniquely their own. When they come to the Old Town Temecula Community Theater this weekend, Chaves has chosen five pieces he feels best represent the company as a whole.
Two of the selected pieces are being performed by the company for the first time on the current tour. The first, entitled "Flesh," is the creation of European up-and-coming choreographer, Iván Pérez.
"The piece itself is about life, love and loss," Chaves said. "This piece was very meaningful to [Pérez] because he choreographed it very shortly after his parents died. The piece looks like two pedestrians who are having this sort of love affair, if you will, and their back and forth. It's not sexual but just really loving. It's really this wonderful mix of multi-media, music, and choreography and the way he combines them is just one of the best I've ever seen."
A piece choreographed by Chaves himself is making its world premiere on this tour. Entitled "In the End," the piece illustrates the changes in male friendships as life progresses.
"I wanted to explore a friendship between men of a non-romantic nature and how, as we get older, that relationship can deteriorate and becomes not okay, based on society and religion and politics, family, you name it," Chaves said.
As the piece begins, the dancers are symbolically nude, representing the innocence and openness of childhood. As the piece moves through three separate duets, the dancers become increasingly distant.
"For the first section, they are completely connected without ever letting go of each other," Chaves said. "And then, as each duet progresses, we lose the connection more and more and, in the last duet, there is no connection whatsoever. Also, the dancers are putting on more and more clothes as we go through the piece, in order to show those constrictions and restrictions. By the end, they are fully dressed in a suit and tie."
Though both of these pieces may be deep and somber, Chaves does not want anyone to be intimidated by the subject matter and carefully chooses the additional pieces to compliment the darker works.
"These two pieces may seem a little bit heavy but they aren't too avant-garde or out there. The music is really beautiful and they are basically about the human experience so they are really easy to relate to," he said. "I don't want to scare people off. So, we begin [the show] with another piece, 'I Close My Eyes Until the End,' which is a really beautiful celebration, so I think this is a show that is really well-balanced."
Although he is determined to portray his artistic vision and push his dancers to their physical limits, Chaves feels that satisfying the audience is the most crucial factor in presenting a successful show.
"I think it's important to acknowledge that people have to make the effort to come to the theater, so we want to give them a really enjoyable experience," Chaves said. "If we can provide a nice, beautiful escape for a couple of hours that help you get in touch and in tune with your emotions, then I feel we've done our job."