New Wave Icons Berlin Celebrate a Past, Present and Future of Music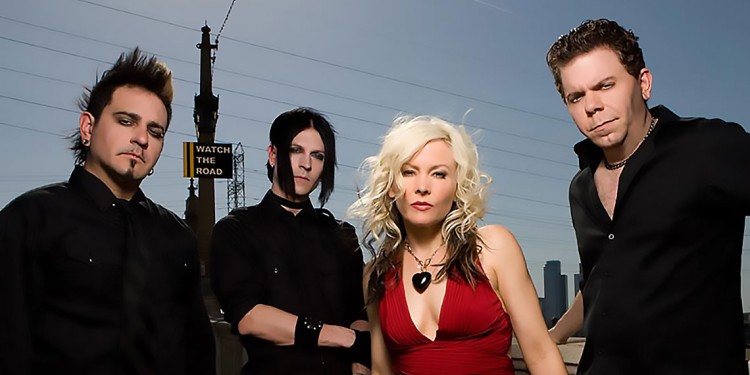 In the summer of 1999, I attended a Billboard-hosted eighties music festival at the Greek Theater in Los Angeles. I remember vaguely that The Go-Go's, or maybe the B-52's were headlining but I really don't know for sure. I was working at 98.7 FM radio at the time and I saw at least one concert a week and now each show sort of blends one into the next in my brain. That particular concert, however, was much anticipated by my 23-year-old self and has therefore left an indelible mark on my memory. I was finally going to see Berlin perform live and vocalist Terri Nunn had been a childhood idol of mine for years.
An enormous voice coming from a tiny frame, Nunn commanded the stage with such presence that the audience seemed to swell with joy and energy as the band performed hits like "No More Words," "The Metro," and the iconic "Take My Breath Away" from the soundtrack to the blockbuster film, Top Gun. But long before Maverick and Charlie hit the sheets to Nunn's chart-topping ballad, earning the band epic mainstream success, Berlin was on the cutting edge of the early eighties music scene; their New Wave sound was unlike anything out there and although brilliant and revolutionary for their time, an industry more interested in commercial success than musical innovation didn't quite know what to do with them.
I recently had a chance to speak with Nunn (a thrill for me, to say the least) and we discussed the early days of Berlin and how the public, outside of the underground club scene, was almost never given the opportunity to experience Berlin's music for themselves.
"It was the late seventies and pop was still happening and what we were doing was kind of sideways. The record labels just didn't get it," Nunn said. "They saw that we had an audience but, every time we went in for a meeting to try to get a record deal they'd say 'Can't you wear those skinny ties and be more like The Knack?' We would try to explain that that just wasn't what we were doing, that wasn't our thing, and they just didn't get it. They didn't get us. That's how it was in the beginning but, as we got better at writing and performing the music, it was more accepted and more popular."
Berlin's popularity only continued to grow and, with only a short hiatus in the late eighties to early nineties, they've kept a loyal and devoted fan base for over three decades. In 2013, Berlin released their best-selling album in twenty years, Animal, which is a collection of electronic dance music and they plan to release another new record in early 2016. Nunn embraces the eighties icon status that Berlin will always carry with them and uses that recognition as a catalyst for exposing fans to their new sound; playing both their well-known singles as well as new music from Animal and their upcoming release on their current tour.
Having a career of such longevity, Nunn and her bandmates have noticed a phenomenon that is now commonplace at their shows – parents exposing their children to Berlin's music and those children becoming fans.
"It's an amazing thing, conversely to me, because it's something I didn't have as a kid. I didn't listen to my mom's music. I didn't listen to what my dad played. I didn't care," she said. "But now, there are families that come to Berlin shows. Maybe because the music is not that different to kids because the sounds I was using back then are still being used in music today and so it's very similar. Honestly, I'm just very grateful that people still want to listen to me and still want to come to my shows because there's no way to know that or predict that."
Though Nunn admits to working and scraping and doing everything she can to keep going in an industry that never quite understood what Berlin was producing, it was the passion for her craft that motivated Nunn throughout her journey. Berlin's music was her art, but it is the Berlin fans whom she essentially considers business partners in what turned out to be quite a lucrative entrepreneurial endeavor.
"The love of music helps me through the low times and the high times are that much more amazing because of that love. The music is definitely why I've kept going, but without the reception from the audience, the giving of the music wouldn't matter," she said. "I could do it for myself, but half of the success is due to the people who receive it and appreciate it and come to the shows and buy the music. So, I think the fans and I are in this together."
With over 30+ years, seven studio albums (one more in production) and diehard fans still packing houses, what would Nunn say to those record executives in 1980, if she knew then what she knows now?
"I think I'd say that I understand you are afraid to make a mistake because your job requires you to predict what music is going to be a hit and that's a really hard thing to do, but you're wrong, obviously," she said. "We're going to make it and we're going to be hugely successful and we're going to last a long time. But I'm not mad at you because I understand that you want to keep your job."
Looking back on Berlin's career of peaks and valleys, with plenty of achievements and plenty of regrets, Nunn uses the wisdom she's acquired from that experience to be thankful for each and every day; reflecting on where she's been, where she is now, and where she may someday end up in the future. She just hopes the rest of us are still along for the ride.
"I was always trying to hit one goal I had in my head, then off to the next and I never really stopped to appreciate the opportunities that were given to us and the wonderful places we've played or the amazing people we got to meet," Nunn said. "Taking time to talk to those people, instead of just running to the next show or the next place or the next album, that's definitely a regret that I now take to heart. I now take the time to appreciate and enjoy the moments as they go by because they go by fast."