Sweet Home Temecula: Lynyrd Skynyrd Rocks Pechanga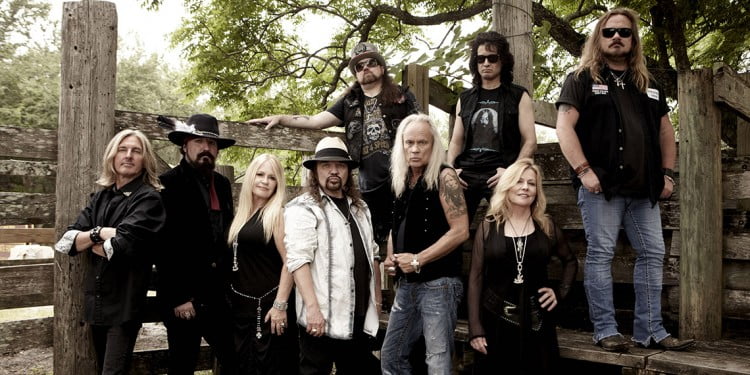 At any rock concert across the country, usually at a moment of awkward silence between songs, an eager audience member is bound to yell out "Free Bird!" And despite the novelty of the sometimes sarcastic gesture, there is a solid reason why that particular 14-minute recording has become an anthem to rock audiences worldwide. Lynyrd Skynyrd is simply legendary.
First formed in 1969 and known for Southern rock classics such as "Sweet Home Alabama," "Saturday Night Special," and "Simple Man," Lynyrd Skynyrd is worshiped by rockers and imitated by tribute bands the world-round.
"It makes you feel very proud to be associated with great music that has stood the test of time"
The four and a half decades since Lynyrd Skynyrd began their epic run have been years filled with a mixture of tragedy and triumph; gaining legions of fans while enduring the heartbreaking loss of band-mates and friends.  But, as the single from their thirteenth album, Gods and Guns, describes; Lynyrd Skynyrd is "Still Unbroken."
The current Lynyrd Skynyrd lineup features Gary Rossington (Guitar), Johnny Van Zant (Vocals), Rickey Medlocke (Guitar), Mark "Sparky" Matejka (Guitar), Michael Cartellone (Drums), Johnny Colt (Bass), Peter Keys (Keyboards), Dale Krantz Rossington- Honkettes (Backing Vocals) and Carol Chase-Honkettes (Backing Vocals).
In a recent phone interview, Medlocke describes what it's like to be part of a band that can be considered a part of musical history.
"Not too many years ago, we wrote a song that was on the Vicious Cycle record called "Skynyrd Nation," where we talk about being three generations old," Medlocke said. "The major part of the audience will be anywhere from 18 to 40, so there's two generations right there. The rest of it will be the third generation and it looks like we're working on a fourth."
That fourth generation of fans is definitely growing; a fact evident by an anecdote Medlocke shares about a recent conversation with his college-age daughter after her first day of school.
"She said 'Dad, I have to laugh,'" Medlocke said. "And I said 'Why?' and she goes 'I've seen no less than two dozen Lynyrd Skynyrd t-shirts on campus.' And I said 'You ought to be happy you're seeing them because that's what's getting you through school.'"
Medlocke played briefly with the band back in 1970, before leaving to form the Southern rock band, Blackfoot. He was approached about rejoining Lynyrd Skynyrd in 1996 and hasn't looked back since.
"I've been back with the band now for 18 years and being associated with this group, I find it very interesting that the crowd base and the fan base just grows and grows," he said. "It makes you feel very proud to be associated with great music that has stood the test of time. They are great historic tunes that will be here after the rest of us are gone and I find that to be a great honor and a great pleasure."
A recent winner of two Native American Music Awards, Medlocke is a seasoned professional; humbled and grateful for the boundless opportunities in which he has been blessed. However, no musician with his level of success has achieved it without a lifetime of effort.
"The young fans ask about the music business and all I ever say is that the secret to being successful in this business is perseverance and great songs," he said. "If you don't have the perseverance to keep trying, even when you get knocked down, then you should do something else. Second of all, you've got to have a talent for writing the tunes. Third of all, what I always like to say is be careful what you wish for."
Though the reflection Medlocke sees in the mirror isn't the same man it was forty years ago, the man who appears on stage still has the same youthful soul.
"I've always said that if you put a guitar in my hand I'm seventeen again. Of course, my better half would probably tell you that I'm seventeen all the time," he said.
Although there are many in his position that would take their success for granted or somehow feel as through their fame was inevitable, Medlocke knows who to thank for his storied career.
"I've had an incredible, extraordinary life, due to having a lot of great fans and a lot of great music and I'm very appreciative of that. I do think about the fans a lot and I give thanks every time I step out there," he said.
Playing music with a band like Lynyrd Skynyrd was a dream come true for a young Medlocke and he couldn't see his life any other way.
"I've never thought about climbing Mt. Everest, although I guess I've climbed the Mt. Everest of the music world, being in the Rock and Roll Hall of Fame and now I'm in the Native American Music Hall of Fame," Medlocke said. "So, I guess I've really done it all, if you come right down to it. I've travelled all around the world and I've met a lot of great people. So, as I sit here in this hotel room this morning, looking back while talking to you, I guess I've accomplished everything I've set out to do."
Lynyrd Skynyrd
Pechanga Theater
August 10th at 7:00 pm