Legendary Musical "Les Misérables" Comes to Pechanga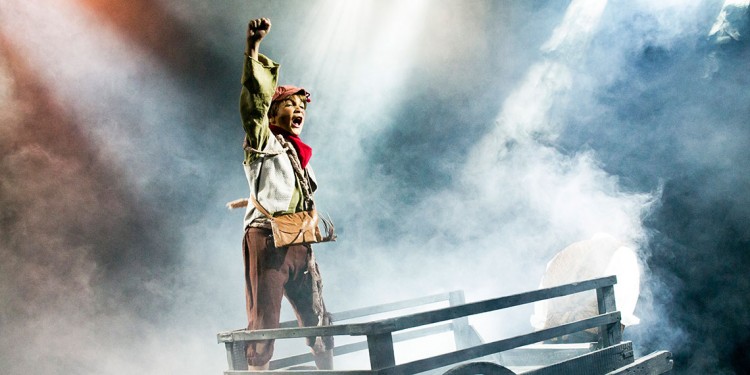 When I was in the eighth grade, I remember getting all dressed up and going to my first Broadway-style musical, a local production of "Les Misérables." Being that it was a community theater, I was entirely overdressed for the clientele, but regardless of the embarrassment felt by my arrival in a sequins cocktail frock, I'll never forget getting lost in the unbelievably captivating and haunting melodies of the show's soundtrack and the perennial hit, "On My Own," has been happily engrained in my memory ever since.
Now Inland Empire residents can immerse themselves in the same visual and auditory spectacle that I had the chance to experience all those years ago, when Boublil and Schonberg's "Les Misérables" comes to the Pechanga Theater this week.
Based on Victor's Hugo's classic and tragic novel of the same name, "Les Misérables" tells the story of Jean Valjean, a French peasant, and his quest for redemption after serving nineteen years in jail for having stolen a loaf of bread for his sister's starving child. Valjean decides to break his parole and start a new life, but is relentlessly followed by a police inspector named Javert, who is determined to send him back to prison. During a revolutionary period in France (but not the "French Revolution," as sometimes referenced,) Valjean and a group of young idealists make their last stand at a street barricade in the musical's epic climax.
A winner of numerous Tony Awards, "Les Misérables" has been staged, time and time again, by professional theater groups as well as amateurs all over the world. It even inspired an Academy Award-winning film starring Hugh Jackman and Anne Hathaway.
Known for its breathtakingly beautiful and sometimes offbeat musical score, the soundtrack includes notable songs like "At the End of the Day," "I Dreamed A Dream," "On My Own," "Bring Him Home," "Do You Hear the People Sing?," and "One Day More."
This is the first time in four years that Pechanga Resort and Casino has hosted a Broadway-style musical. The Pechanga performances of "Les Misérables" are being staged by Riverside County's Theatre Royal, they are directed by Scott King and include Temecula Valley residents in the cast, including local fourth grader, Jasmine Carlton, in the role of young Cosette.
Tickets for "Les Misérables" at Pechanga Resort and Casino are going fast but are still available, so now is your chance to catch the tremendously successful musical that stays in the heads and the hearts of audiences for years to come. Trust me. I speak from experience. "On my own…pretending he's beside me…"